The Buckeye State has everything you think of when you think of classic Americana. With its idyllic scenery, huge amusement parks, professional sports, and the Cleveland Rock & Roll Hall of Fame, Ohio is a lot of what the USA has to offer.
Diverse geographic regions offer a wide range of outdoor activities. Visitors can kayak on Lake Erie or hike the Edge of Appalachia Preserve, a 13,500-acre sanctuary in the Appalachian Mountains. Ohio also offers wilderness hiking, bird watching, snowmobiling, and canoeing. People can visit historic Native American sites like Serpent Mound, a prehistoric effigy mound in Adams County.
Families will appreciate the water parks and amusement parks on the shores of Lake Erie or a scoop of Columbus, Ohio-born ice cream from Jeni's Splendid Ice Cream. Art lovers will appreciate the Toledo Museum of Art, an internationally recognized art museum with 45 galleries, and the Akron Art Museum, which features modern art displayed against the backdrop of its 1899 building.
From theme parks to state parks, from art museums to Native American sites, this Midwestern State has something for everyone.
Best Places to Visit in Ohio
Cleveland
This vibrant city is a perfect blend of cosmopolitan experiences like museums and breweries and classic Midwestern grit.
Rock & Roll Hall of Fame: Visit the iconic glass pyramid, which houses costumes, instruments and other artifacts celebrating rock, classic and pop music.
The Cleveland Museum of Art: Founded in 1913 in the Wade Park District, the museum features works spanning over 6,000 years.
Cleveland Botanical Gardens: Explore 10 acres of gardens including a Japanese, herb, and rose garden in addition to a designated Children's Garden.
Cities in Ohio
Cincinnati: The 1933 Cincinnati Museum Center is known for its Art Deco architecture and its children's museum.
Columbus: The state's capital is known for its string of parks called Scioto Mile and the Columbus Zoo and Aquarium.
Dayton: Visit the National Museum of the U.S. Air Force, the largest military aviation museum in the world.
Ohio State and National Parks
Cuyahoga Valley National Park: Catch a ride on the Cuyahoga Valley Scenic Railway, which holds themed train tours through the park.
Hocking Hills State Park: Hike the mile-long trail to Rock House, a natural cave created from water eroding away sandstone, or the six-mile trail that leads to Old Man's Cave, a large recess cave.
Hopewell Culture National Historical Park: This sacred park is the site where Native Americans built earthen mounds roughly 2,000 years ago.
Popular Tourist Attractions
Lake Erie
A popular getaway destination, the shores of Lake Erie are home to roller coasters, golf courses, wineries, and more.
Sandusky: Visit Cedar Point, the roller coaster capital of the world, or Firelands Winery, one of the state's oldest wine producers.
South Bass Island: Tour the small Ottawa County island by bicycle, golf cart, or guided tram.
Marblehead Lighthouse State Park: The 75-foot tower on Marblehead Peninsula has been guiding ships since 1822. Take a tour of the oldest operating lighthouse on Lake Erie.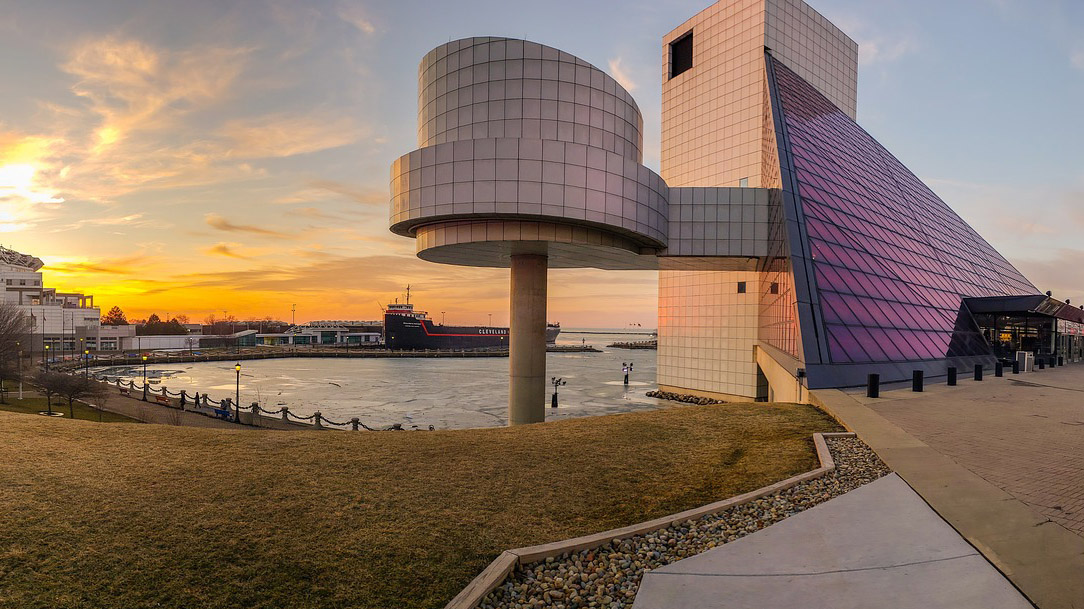 Rock & Roll Hall of Fame, Cleveland