Great Smoky Mountains National Park
Visiting Blount County
In East Tennessee, bordered by five area lakes and the Great Smoky Mountains National Park, you will find Blount County. One of the oldest counties in Tennessee, it possesses and is surrounded by impressive geographic features including the Great Smoky Mountains, the Ridge-and-Valley Appalachians, and the Little River.
Blount County is the place to visit for any outdoor enthusiast, with access to the mountain top and underground adventures. The active visitor will enjoy watersports, fly fishing, cycling, hiking, and running trails. There are also bowling centers, numerous golf courses, playgrounds, tennis courts, public swimming pools, horse riding stables, a drive-in theater, and so much more. Visit Blount County, one of the most visited recreational sites in the nation.
Best Places to Visit in Blount County
Best Nature and Outdoor Activities
Great Smoky Mountains National Park: America's most visited national park where visitors can appreciate its diverse wildlife and scenery including waterfalls, black bears, and year-round wildflowers.
Hiking Trails: A hiker's dream featuring 900 miles of trails, 150 hiking trails, and 71 miles of the Appalachian Trail.
Fishing: Cast your line in a quiet spot along the Little River, Tellico Lake, or Alcoa Duck Pond.
The Little River: A unique way to enjoy the scenery via kayaking, rafting, and tubing.
Popular Tourist Attractions
Tuckaleechee Caverns: A mile-long cavern system known as the "Greatest Site Under the Smokies."
River John's Island: A 3-acre island surrounded by the Little River.
Great Smoky Mountain Heritage Center: Dedicated to the people and culture of the region, it includes a Historic Village which is home to 13 historic buildings.
Dark Island Swinging Bridge: An iconic swinging bridge, perfect for a memorable photograph of your trip.
Little River Railroad Museum: With historic exhibits and artifacts, this museum is dedicated to preserving the heritage of the Little River Lumber Company and the Little River Railroad.
Annual Events
Fiber Arts Festival: A 2-day event promoting the "sheep to shawl" concept, it includes classes, demonstrations, family activities, live animals, and a marketplace of vendors.
Tour de Blount: Choose one of the numerous routes for a beautiful bike ride through Blount County.
Fine Arts Blount Kite Festival: This colorful spring event features kite flying, kite painting, vendors, food, and music.
Great Smoky Mountains Hot Air Balloon Festival: Annual summer hot-air balloon festival includes live entertainment, family-friendly activities, craft vendors, and food trucks.
Blue Ribbon Country Fair: Blount County's only fair includes various contests such as hog calling, rooster crowing, and catch the greased pig.
Leaf Peeping Season: Every fall visitors flock to the Smoky Mountains to appreciate the colorful foliage.
Grains & Grits Festival: Visitors 21 and over can sample southern spirits and a gourmet food selection.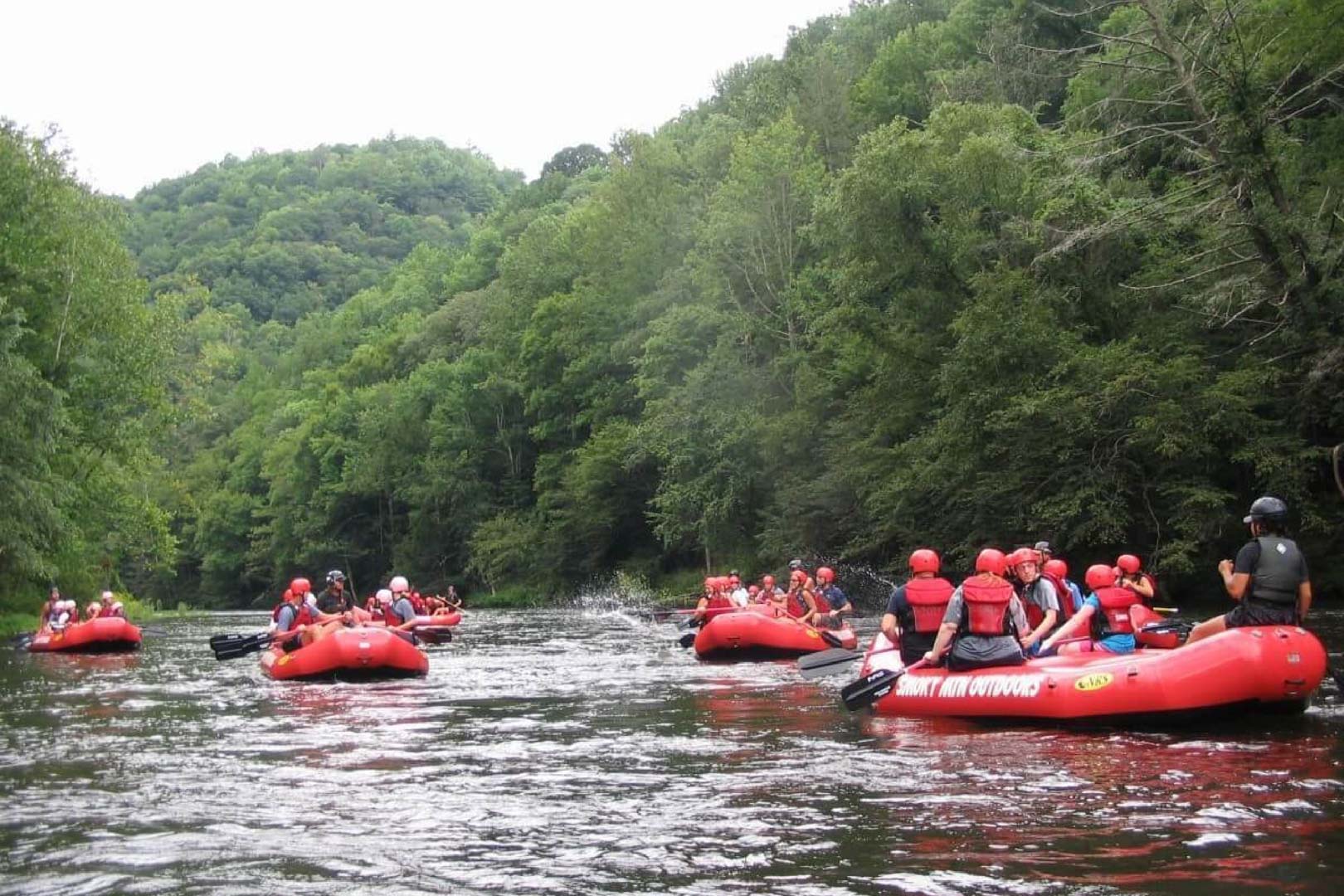 Smoky Mountain outdoors whitewater rafting boat line