Tennessee is probably most known for its music history-- Dolly Parton, Elvis Presley, and Aretha Franklin all have their roots in this Southern state. Make a trip to Pigeon Forge, the mountain town that is home to Dollywood. Or visit Elvis Presley's Graceland in Memphis. The state's capital, Nashville, is considered a "music city" with its famous stretch of Honky Tonks that feature live music every day.
But Tennessee isn't just for the music lovers. The state's one and only national park, Great Smoky Mountains, is a UNESCO World Heritage site. Nature enthusiasts can marvel at "The Lost Sea," one of the largest underwater lakes, or hike parts of The Appalachian Trail. History buffs can take an in-depth look into Tennessee's role in the Civil War and civil rights by visiting the Abraham Lincoln Library and Museum or the National Civil Rights Museum.
Whether you're visiting for the world famous music, natural wonders, or historic landmarks, "The Volunteer State" is a family-friendly destination worth visiting all year round.
Best Places to Visit in Tennessee
Nashville
The state capital, located on the Cumberland River, is best known as the country music capital of the world.
Sun Studio: This famous recording studio is the birthplace of rock 'n' roll. Sun Studio offers guided tours for those who want to stand in the very spot Elvis Presley first recorded.
Grand Ole Opry: "The Show That Made Country Music Famous" is a weekly American country music concert founded in 1925. Live performance venue Ryman Auditorium was the home of Grand Ole Opry from 1943-1974.
The Parthenon: Built in 1897, this centerpiece of Centennial Park is a full-scale recreation of The Parthenon in Athens, Greece.
Country Music Hall of Fame: This family-friendly museum and research center is dedicated to the preservation and interpretation of pop, folk, and country music.
Cities in Tennessee
Memphis: Located in downtown Memphis, the 1.8-mile stretch of Beale Street is considered the official home of the Blues.
Chattanooga: Experience the Incline Railway and ascend Lookout Mountain for stunning, scenic views of this charming town located along the Tennessee River and bordering Georgia. Check out nearby Ruby Falls, one of the tallest underground waterfalls at 1,120 feet underground.
Knoxville: Visit James White's Fort, the 1786 home of the founder of Knoxville.
Gatlinburg: Perfect for a weekend getaway, this Eastern Tennessee mountain town is known as the gateway to Great Smoky Mountains National Park.
Tennessee State and National Parks
Great Smoky Mountains National Park: Straddling the border of North Carolina and Tennessee, this section of the Appalachian mountains is the most visited National Park in America.
Cumberland Mountain State Park: This 1,720-acre park centers around Byrd Lake and has camping sites, cabins, and hiking trails.
Rock Island State Park: Located on the headwaters of Center Hill, this 883-acre park overlooks a 30-foot cascading waterfall, Great Falls.
Civil Rights Trail
With 12 stops located in Tennessee that explore the role the state had in the Civil Rights Movement, the Civil Rights Trail makes for a meaningful and educational road trip.
National Civil Rights Museum: Through artifacts, videos, texts, and images, this museum preserves the history of the Civil Rights Movement and human rights movement worldwide.
Clayborn Temple: Dr. Martin Luther King Jr. often gave speeches at this historic church.
Woolworth on 5th: This 1930s building was the site of many 1960s sit-ins and is now listed on the National Register of Historic Places.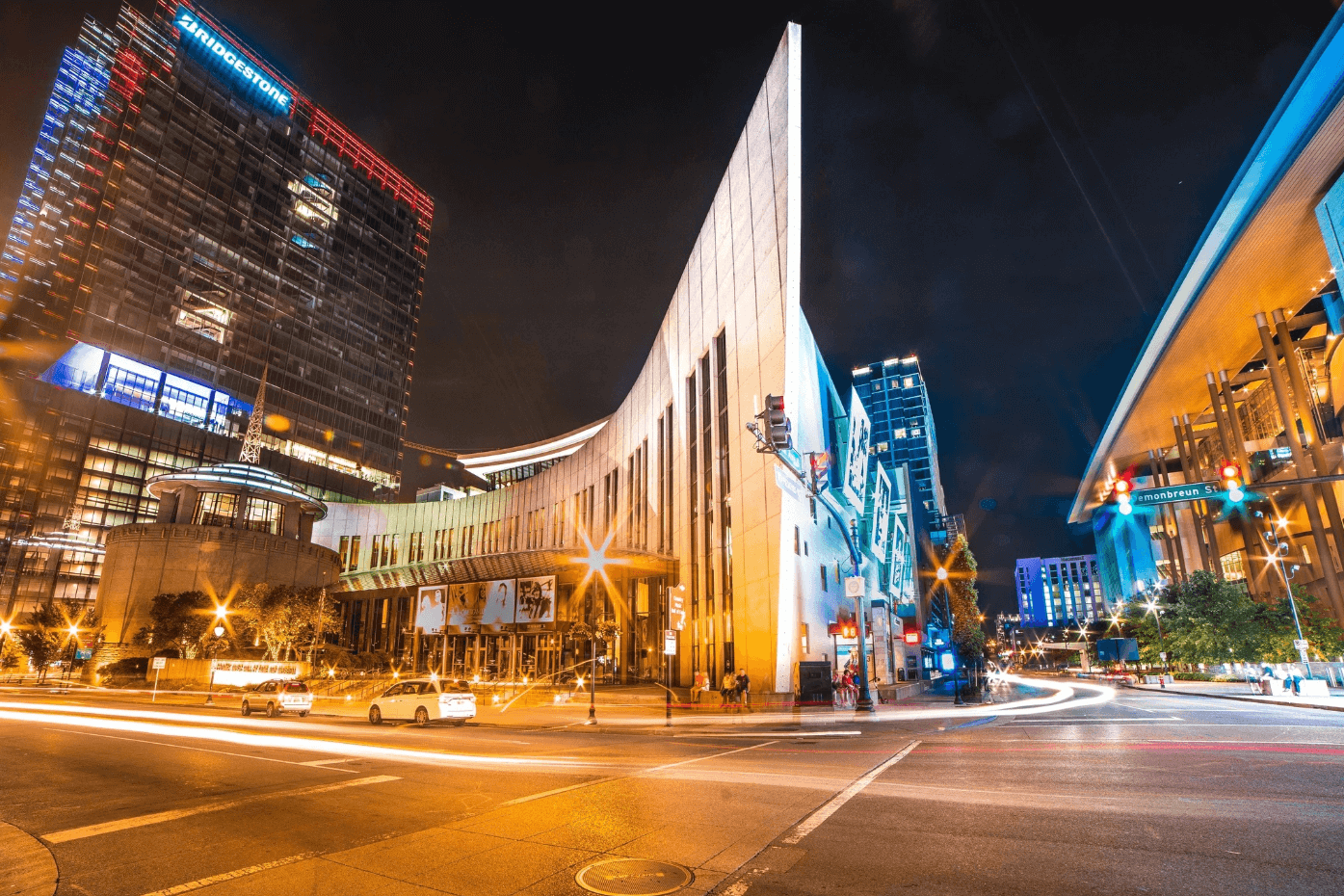 Country Music Hall of Fame