Do you feel like this summer has been flying by? Have you yet to hit the beach or take that relaxing summer vacation you need? Well, we've got you covered! It's a great time to book one of the best late summer vacation spots in America. Before the last rays of summer fade, plan a family beach trip, romantic oceanside getaway, or relaxing girlfriend's getaway to remember. The summer season is precious! It's time to unwind and make some memories. Let's dive in and explore some of the best beaches to visit before the summer's over.
Westchester County, New York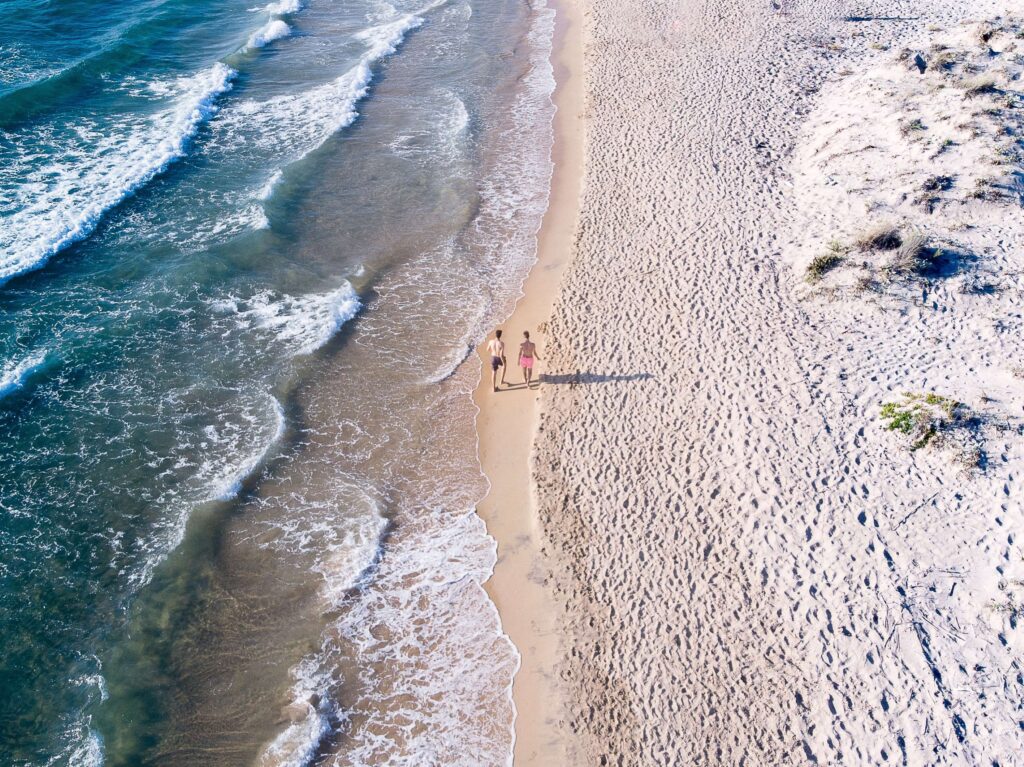 Westchester County, located just half an hour from New York City, touts close to two dozen beaches. The Sound Shore region, adjacent to the Long Island Sound, consists of 36 miles of charming towns, villages, private beaches, and inlets. Westchester's Long Island Sound has glittering harbors, artificially-maintained sand beaches, waterfront boardwalks, nature preserves, and a generally luxurious and picturesque ambiance. The county is one of the best spots for summer trips if you like sophisticated culinary experiences, spa treatments, handcrafted beers, local ciders and wines, or fresh farm-to-table meals. Entertainment of all kinds – from music-filled summer fairs to farmer's markets – is also easy to access. Many stars call this beautiful area home due to its scenic views and culinary sophistication.
The county features some fun and convenient beach spots for families. For example, chairs and umbrellas are available to rent at Playland Beach in Rye, so that you don't have to be saddled by carrying too much. Next door, Rye Town Beach features golden sandy beaches, along with grassy fields, paddleboarding, and kayaking.
Westchester County is also famous for being home to hundreds of sites on the National Register of Historic Places. If you are curious about the Revolutionary War or African-American history, you will have plenty of spots to check out.
You deserve some rest and relaxation this summer. Pack your bags and be sure to bring your Westchester County, NY Free Travel Guide. 
Get Your Free Westchester County Travel Guide
Queen Anne's County, Maryland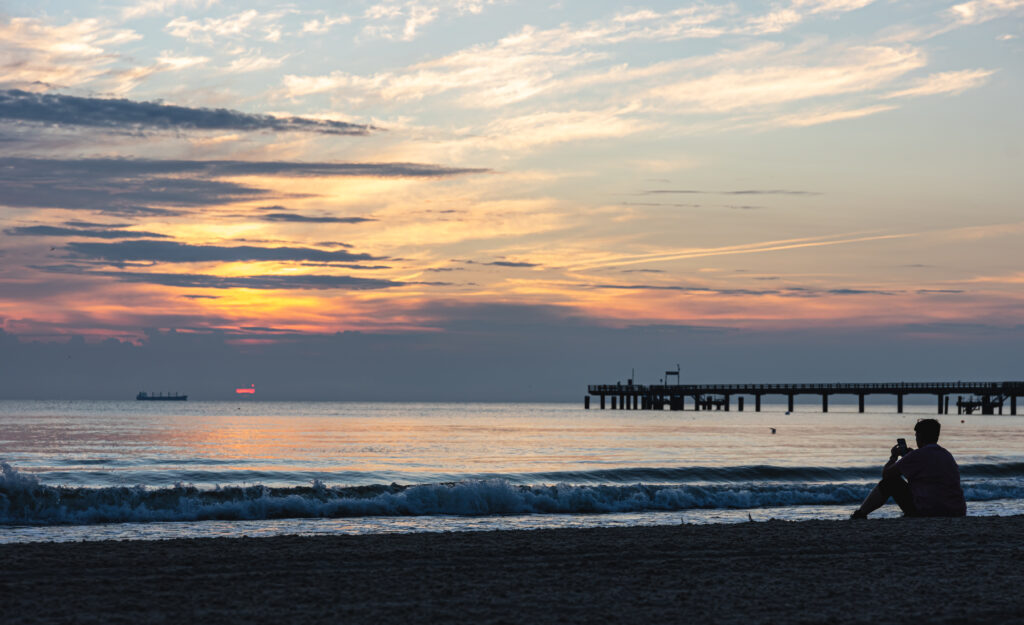 Close to the Chesapeake Bay Bridge, Queen Anne's County is home to several popular beaches, along with beautiful parks, trails, and nature preserves. The area is renowned for its incomparable, breathtaking sunsets. Matapeake Beach is a beautiful vacation spot you can enjoy with your family, friends, or even your pup, since there's a special trail to a designated dog beach! It's open from sunrise to sunset for swimming, sunbathing, surfing, sand castle building, and more.
Ferry Point Nature Park and Terrapin Nature Park are two beautiful summer spots for walking, bicycling, hiking, and nature photography. Ferry Point offers an observation tower with a unique view of the area. Award-winning Terrapin Nature Park features 276 acres of oceanside beauty. You can see tidal ponds and wetlands, oyster chaff walking trails, woodland, sandy beaches, wildflower meadows, and scenic trails and views. While you're there, check out the county's several-mile-long Kent Island. And if you're a seafood lover, be sure to kayak through the seagrass, enjoy fresh, shucked oysters and crab cakes, and take in the stunning Chesapeake Bridge sunset views. For a change of pace, you can even explore the area's abundance of charming historical points. The oldest settlement sites in the state and the oldest courthouse in the state are in Queen Anne's County. At mealtime, settle in for some famous local food traditions. From Maryland crabcakes to pit beef sandwiches, you'll have an array of tasty plates to try.
Check out the Queen Anne's County, MD Free Travel Guide, create your itinerary, and pack your swimsuit before summer ends. Maryland will surprise you with some of the best beaches to visit before the summer's over.
Get Your Free Queen Anne's County Travel Guide
Rehoboth Beach & Dewey Beach, Delaware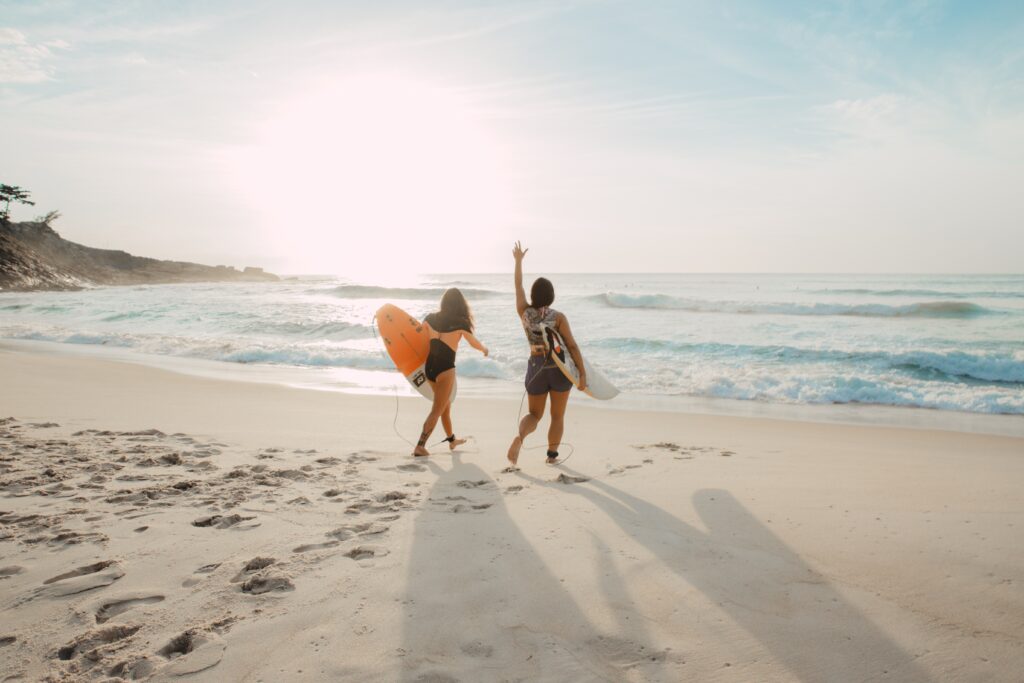 Delaware's Rehoboth Beach & Dewey Beach area is another one of the best spots for a late summer vacation! Do you love strolling a boardwalk with the scent of fresh sea salt and delicious treats wafting in the air? Are sparkling sunsets on the water your thing? Do you adore boutique shopping, spas, or lazy days at the beach? Then these are the perfect beaches to visit this summer. And a word to those who enjoy a bit of retail therapy: shopping is tax-free in the Rehoboth Beach & Dewey Beach area. The coast is sprawling with parks and fabulous spots for cruises or ferry rides, water sports, sailing, or hiking. The area is well known for both family-friendly outdoor activities as well as an active bar and nightlife scene for adults. Rehoboth Beach offers easy access to bayside nightclubs, restaurants, and lively clubs. It's also notorious for games, rides, food, and family-friendly boardwalk fun.
Explore the Rehoboth Beach & Dewey Beach, Delaware Free Travel Guide to plan your summer escape before the season slips away. Taking time for some R&R now can set you up for a relaxed fall and winter season later. You deserve some beach time in 2023!
Get Your Free Rehoboth Beach & Dewey Beach Travel Guide
New Jersey's Southern Shore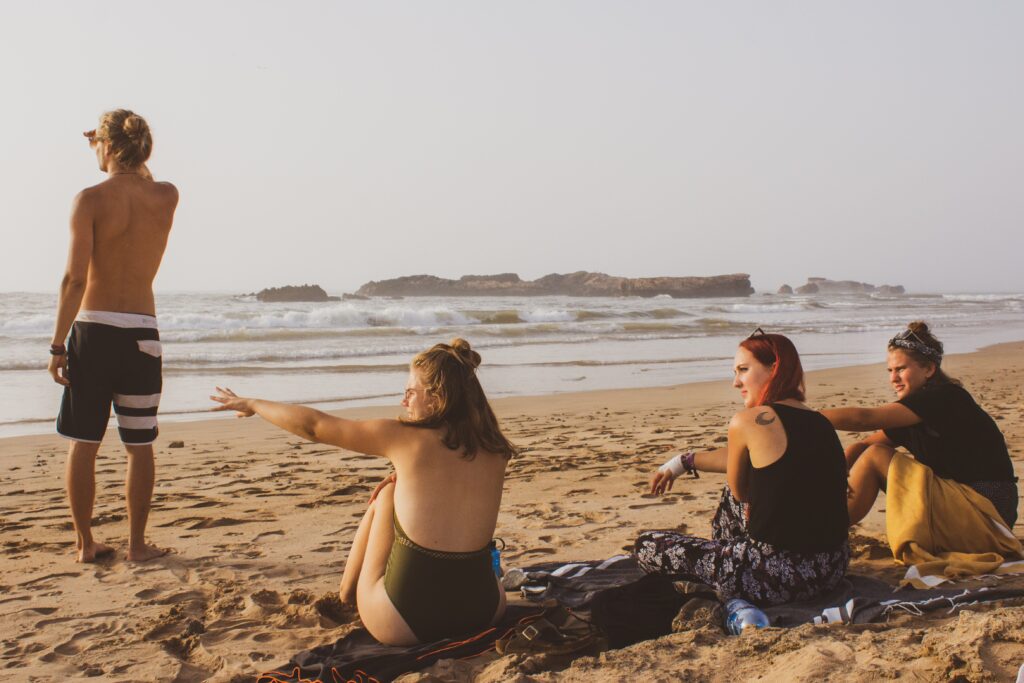 You may know the Jersey Shore due to its reality TV show fame. It's a real place and its glamour and fun are accessible to everyone! Stunning South Jersey is home to many of the best beaches on the East Coast. The New Jersey Shore is famous worldwide for close to 150 miles of glorious natural seaside beauty, combined with endless attractions.
Cape May, Atlantic City, Ocean City, Wildwood, and other charming beach towns dot the Southern Jersey coastline. Luxurious lodgings, beautiful ocean views, award-winning beaches, boardwalks, breweries, shops, wine tours, food and gambling are all available here. If you love to explore the sea, you can observe ocean wildlife via boat tours, nature trails, or lighthouse views. This is a fantastic area for Instagram-worthy photo opportunities!
Whether you travel with little ones, a romantic partner, friends, family, or solo, you will not be bored on your South Jersey Shore vacation. Late summer is the perfect time to soak up some sun and create some lovely memories to last through the cold season. Start planning today.
Get Your Free Travel Guide for New Jersey. This is one of the best places for a late beach vacation this summer. It's not too late to lock in a trip and enjoy this legendary beach area.
Get Your Free New Jersey Travel Guide
Cadiz-Trigg County, Kentucky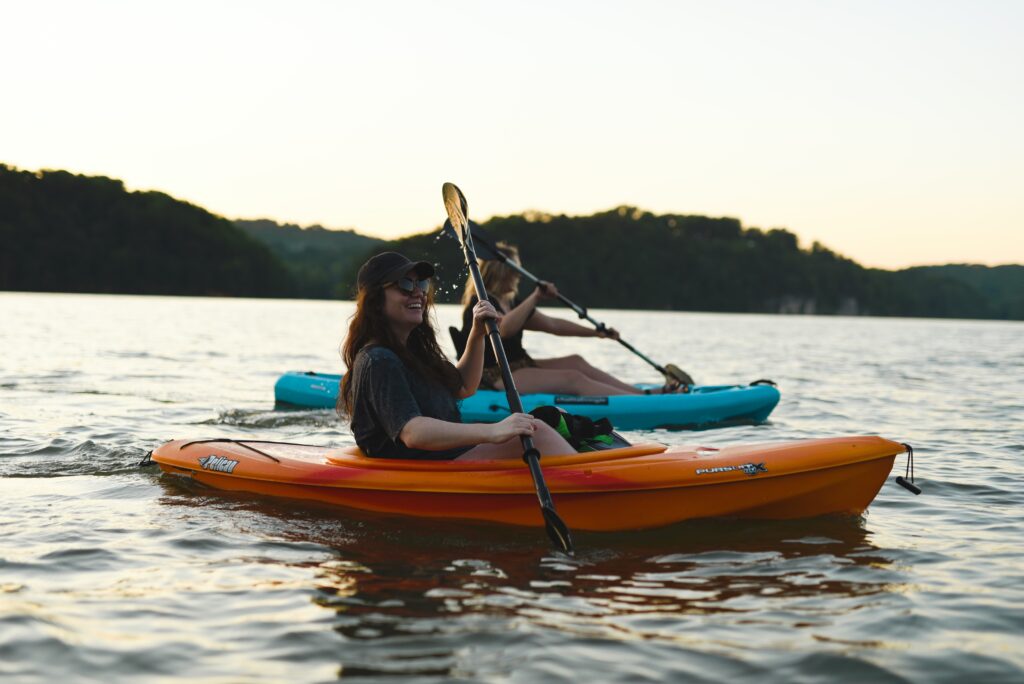 Warm, friendly, and full of breathtaking natural beauty, West Kentucky's Lakes region is a great place to enjoy beach life this summer. The Bluegrass State offers some serious hidden gems. Imagine a pristine beachfront, surrounded by pine forests and trails! Avoid the crowd and relax on the warm sand, or take a refreshing swim in a crystal-clear, serene lakeside setting like no other.
Kentucky Lake and Lake Barkley, along with the canal that connects them, constitute 170,000 acres of preserved wildlife and tourist attractions. The Land Between the Lakes is the ideal spot to enjoy antique shopping, local food, fantastic beers, pristine lake beaches, and more. Lake Barkley State Resort Park is a family-friendly destination for all ages. You can spend the day enjoying golf courses, a fitness center, indoor and outdoor pools, horseback riding, a marina, and glistening lake views. 
Whether you like to camp, kayak, fish, or dine out, the Cadiz-Trigg County area offers endless summer entertainment. If you and your family enjoy the great outdoors, take your loved ones along and check out the Elk & Bison Prairie. This amazing drive-through preserve allows you to see beautiful and unique creatures in their natural habitat. And before you leave the Bluegrass State, take time to sample some iconic Kentucky barbecue or bourbon whiskey on your beach getaway.
Gather your summer gear and pack up. Be sure to bring your Cadiz-Trigg County, Kentucky Free Travel Guide. Plan your beautiful beach escape before summer's end!
Get Your Free Cadiz-Trigg County Travel Guide
Book Your Beach Escape Today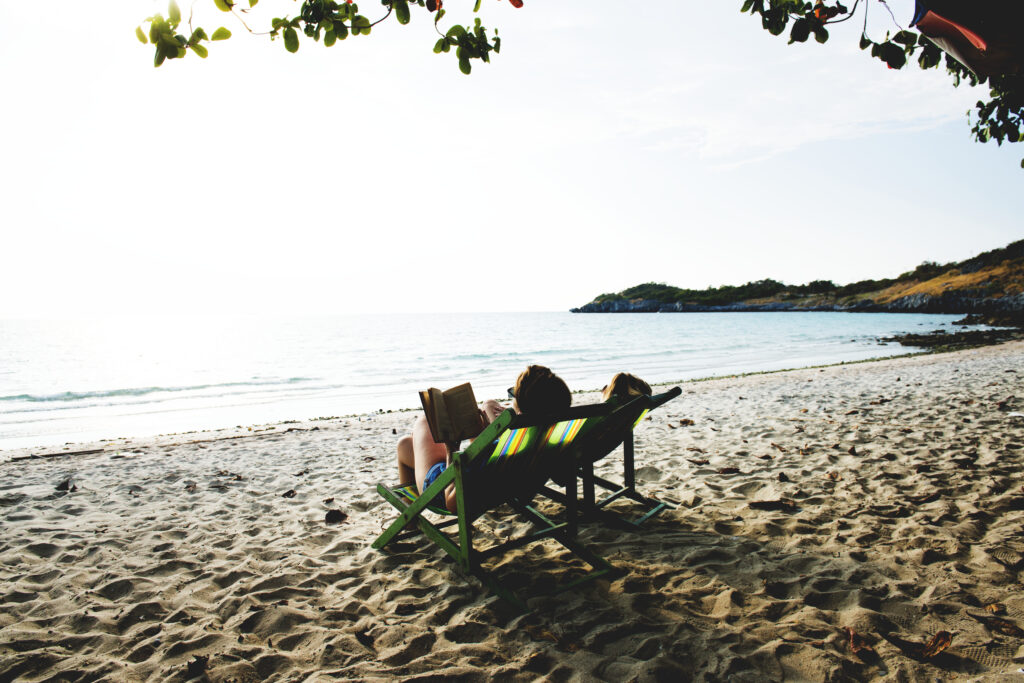 Don't let this summer end without planning your beach getaway. For any destination you have in mind, Travel Guides Free has the resources you need. Check out all of our Free Travel Guides today.
Check out our Free Travel Guides