Just like that, summer is somehow right around the corner. Have you thought about where you and your family are spending summer vacation?

If you're in the school of thought that it's still too early to think about travel plans – think again. Summer is peak travel season and that means more expensive… well, everything. Combine peak pricing with the sheer amount of people who are also traveling to your favorite vacation spot and you can see why scrambling for a last-minute getaway can end up leaving you frazzled.

We can't stress this enough: give yourself enough time to plan your vacations. To make the process easier, we've put together some of our team's favorite laid-back summertime spots for family fun. The best part? You don't even need a passport.
Let's get planning!
Garrett County, Maryland
Imagine this: you're lounging on a pontoon boat in the middle of an idyllic lake, breathing in the crisp mountain air, drink in hand, kids accounted for and having a good time. Maybe you'll go for a mountain bike ride with the family later in the afternoon (when the sun isn't so hot) and then hit a locally-owned restaurant for farm-to-table, down-home cooking washed down with a proprietary microbrew.
Sounds ideal? There's a reason why Garrett County is a vacation staple for the lucky people who know of
it. Comprised of various small towns in the northwestern corner of Maryland, Garrett County offers everything from quaint antique shopping to extensive hiking trails to a rich history-filled heritage.
In your planning process, don't forget to check the events schedule! The kids will love immersing themselves in Celtic culture at the Garrett County Celtic Festival in June, or spending a weekend surrounded by art and creativity at the Annual Art in the Park event at Deep Creek Lake.
If you're too impatient to wait until the summer to experience Garrett County for yourself, you're in luck; you can now take a virtual reality tour of some of the location's most popular destinations (yes, we're serious.) Take a trip before your trip here.
Where to stay: The Inn at Deep Creek

Get Your Free Garret County Travel Guide
---
Smoky Mountains, TN
The Osborne Brothers said it best: "ain't no smoggy smoke on Rocky Top." The Great Smoky Mountains get their name from the smoky mist that always seems to hover around its peaks and valleys, giving them an ethereal vibe that lends itself to the peace and serenity you seek in the mountains.
We recommend renting a cabin for the full mountain experience – there's few better feelings than waking up to a scenic mountain view first thing in the morning. From there, give yourself enough time to explore Cades Cove just seven miles away from Townsend. Whether you decide to discover what its 2,500 acres have to offer on foot, car, bike, or horse (yes, you read that right) just make sure that you go. It's easily a local favorite for camping, hiking, and generally enjoying the great outdoors with family and friends alike.
We couldn't talk about the Smokies without mentioning a family favorite in the summer: white water rafting. The Pigeon River is replete with rapids of all classes, meaning that there's a float for the whole family. Have little ones? Consider taking a Scenic Family Float instead!
If you're looking for a little excitement, maybe even a little party, plan your trip around one of the many events that the Smokies host. June offers events like Hops in the Hills, Summer Taste of Art and Wine, and the Big BBQ Bash. Maybe the Volkswagen Car Show in July is more your thing or the Hot Air Balloon Festival in August. You can't go wrong in good ol' Rocky Top!
Get Your Free Smoky Mountains Travel Guide
---
Kentucky Lake, KY
Ok, so we're realizing that we're partial to lakes and mountains, but isn't the great outdoors what summer is all about? There's just something about being on the water that we love so much.
Sure, you've heard of the Great Lakes, but have you heard of the "South's Great Lake?" Thanks to the construction of the Kentucky Lake, one of the largest man-made bodies of water in the world was born, and we sure are thankful. Over 2,000 miles of shoreline and 160,000 acres make for a summer destination that has a lot to offer.
Kentucky Lake and Lake Barkley make up the "Land Between the Lakes," where you can enjoy all the outdoor activities your heart desires. Top-rated courses will keep even the biggest golf enthusiasts happy, and the lakes allow for every difficulty level of backpacking and hiking trails you could want.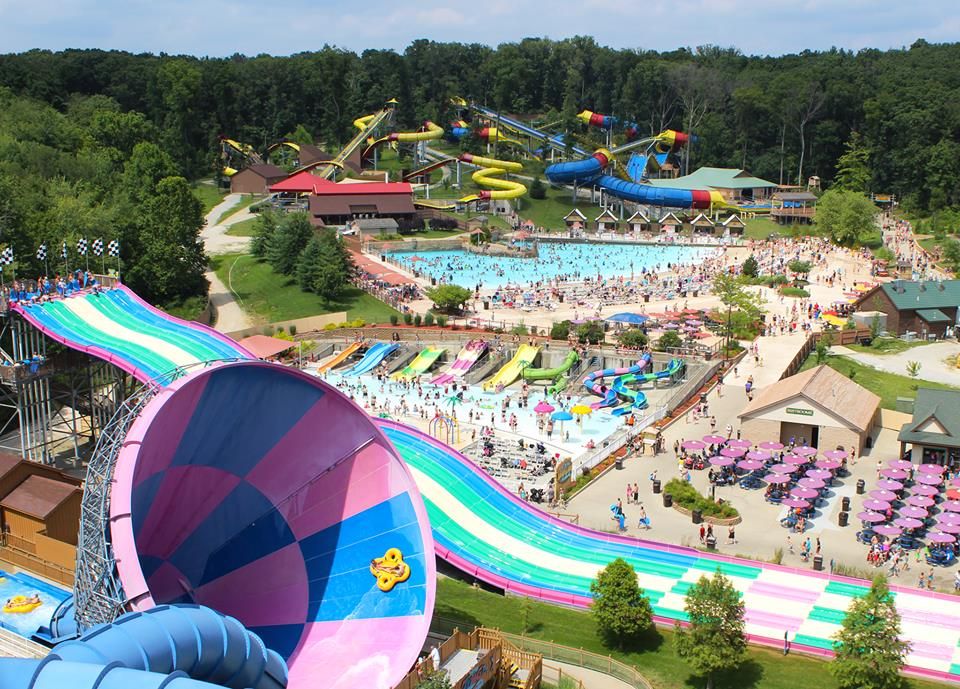 "Fun for the whole family" is a motto not to be taken lightly around these parts. The Kentucky Lakes area also happens to be home to the largest water park in Western Kentucky, multiple shopping days worth of unique boutiques and antique stores, and a fishing scene covered by bass anglers all across the nation. Where to stay: Maple Hill Bed & Breakfast
Get Your Free Kentucky Lake Travel Guide
---
Carbon County, WY
Add a little yee haw to your summer in Wyoming! For a truly authentic Western adventure, look no further than Carbon County to satisfy your inner cowgirl/boy.
First things first – Carbon County is big. Like, 7.8K square miles big. Just about anywhere you turn there's an abundance of scenic vistas and mountain landscapes, so budget enough time (we recommend at least five days) to fully immerse yourself in what Carbon County has to offer and melt away the stresses of everyday life. Hunting, hiking, museums, fishing, and camping are just some of the family-friendly activities that the area has to offer.
The biggest city in the area is Rawlins, a charming city that still holds on to its roots in the old West – you'll notice it as soon as you enter its historic downtown district and see the 150+ year old buildings, now occupied with an impressive selection of shops and restaurants.
What's the old West without an outlaw? Before leaving Rawlins, take a tour of the Wyoming Frontier Prison, which is now a museum dedicated to some of the state's infamous outlaws. From there, head to Saratoga, a town nestled between the Snowy Range and the Sierra Madre Mountain Range that's famous for its mineral hot springs. While the summer may not be the most conducive time of the year to sit in nature's hot tubs, there's plenty to do in Saratoga that will keep the whole family busy, and most importantly, having a whole lot of fun.
If you're foregoing the hot springs, opt for a guided fishing trip along the Upper North Platte River or hop in an innertube and take a leisurely float replete with postcard-worthy scenery. You may even see a bald eagle or two!
Where to stay: Brush Creek Ranch

Get Your Free Carbon County Travel Guide
---
Missoula, MT
Last, but certainly not least is a funky and eclectic mountain town that holds a special place in a lot of hearts. Summertime in Missoula is special – the city has thawed out after a brutal winter and people are out and about to take in as much of the city's surrounding area, trading ski boots for fishing poles and enjoying an outdoor concert in one of its many famous venues.
Known for being a playground for both big and little kids alike (it was honored with a "Playful City USA" award in 2009), the opportunities for fun are seemingly endless. A must-see is A Carousel for Missoula, a massive, hand-carved carousel that just so happens to be right next to the community-built Dragon Hollow playland in Caras Park.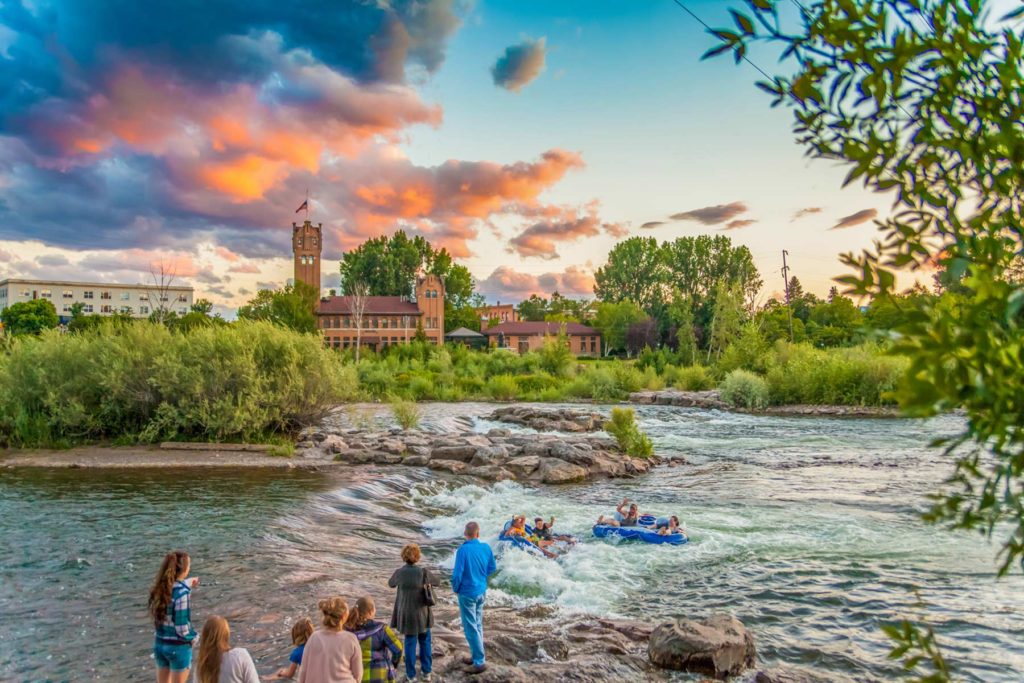 Missoula is a mountain town with a side of city seasoned with just the right amount of college town – making it a hotbed for culture and arts and providing an endless list of things to do that goes beyond just outdoor activities (although a 10 pm sunset just begs for you to stay outdoors all day.) There's a reason why it's been named one of the 25 Best Towns Ever by Outdoor magazine.
A self-proclaimed music town, Missoula offers live music just about every day of the week from just about any genre that your heart desires. We recommend catching a show at the Wilma Theatre (it's got one of the best sound systems in the Northwest) after hitting one of the countless local breweries – you can even bring your kids! Distilleries and breweries are family-friendly in Missoula, a note to the friendly attitude that the whole town seemingly adopts.
Where to stay: The Gibson Mansion Bed & Breakfast
Get Your Free Missoula Travel Guide
---
Raleigh, NC
Ok, so North Carolina's capital isn't exactly surrounded by mountains or lakes, but the sheer beauty of this Southern city is enough to make even the biggest inside kids want to spend some time frolicking outside in one of Raleigh's many parks.
Pro tip: if you have little ones, budget a day to spend at Pullen Park, which is perfectly situated between NC State's campus and the tall buildings of downtown Raleigh. Ride the 1911 Gustave A. Dentzel Menagerie Carousel, rent a paddle boat, have a picnic, take a nap under one of the city's iconic oak trees and catch a Theatre in the Park show if you're feeling ambitious!
Parks aside, the Raleigh area provides a heap of family-friendly things to do, places to go and activities to enjoy for the family looking for an exciting place to visit any time of the year. From an abundance of museums (North Carolina Museum of Natural Sciences, Marbles Kids Museum, the North Carolina Museum of Art and the North Carolina Museum of History are local favorites), to the city's impressive music and arts programming, Raleigh's unique brand of creativity and innovation makes for an extraordinary getaway that's perfect for everyone.