With over 130 miles of Atlantic coast, New Jersey offers incredible sandy beaches, resort towns, and amusement parks. In addition to its famous Jersey Shore, The Garden State is known for a thriving agriculture industry, most notably tomatoes. Tourists can enjoy fresh produce from "pick your own" farms and roadside farm stands.
Visit one of the state's unique parks such as Grounds for Sculpture, a 42-acre sculpture park and arboretum, or Liberty State Park, a waterfront park that offers views of the Statue of Liberty and Ellis Island. New Jersey also makes for a great home base to visit other popular east coast destinations, like neighboring New York and Pennsylvania.
From world famous beaches to Six Flags to the Appalachian Trail, the fourth smallest state has no shortage of things to do and see for travelers and families alike.
Best Places to Visit in New Jersey
Jersey Shore
One of the more well known and most traveled places in New Jersey is the 130-mile stretch of oceanfront along the Atlantic coast, which offers a variety of destinations like amusement parks, arcades, casinos, shopping, dining, and of course, beaches.
Atlantic City: A resort town known for its casinos, nightlife, and entertainment, Atlantic City also offers family-friendly options like an aquarium and the OC Waterpark.
The Boardwalk: Located in Atlantic City, the iconic oceanfront boardwalk features candy shops selling local salt water taffy and fudge, souvenir stores, and several piers including Steel Pier, a 1,000 foot long amusement park just off the boardwalk.
Ocean Grove Beach: The Jersey Shore is of course dotted with beaches, but Ocean Grove is one of the more popular beaches for its mild waves that make for perfect boogie boarding.
Cities in New Jersey
Newark: Though it is best known as a major air, shipping, and rail hub, Newark is also home to the New Jersey Performing Arts Center and the Newark Museum, which features American paintings and sculptures.
Trenton: As the state's capital, a trip to Trenton isn't complete without a visit to the historic state house, a 200-year old building with a dome covered in 48,000 pieces of gold leaf.
Hoboken: Located on the Hudson River with a view of Manhattan, this tiny city has a thriving restaurant and bar scene.
New Jersey State and National Parks
Morristown National Historical Park: George Washington and the Continental army camped here from December 1779 to June 1780, surviving the coldest winter in recorded history.
Delaware Water Gap National Recreation Area: This 70,000-acre park encompasses trout streams, low-forested mountains, and a 1,000-foot deep Water Gap.
The Great Falls of the Passaic River: This 77-foot high waterfall on the Passaic River is one of the largest waterfalls in the United States.
Liberty State Park: This park offers miles of walkways for jogging, biking, or rollerblading, as well as access to ferries to the Statue of Liberty and Ellis Island.
Resort Towns
New Jersey's shore has been a longtime favorite getaway for New York city dwellers and local tourists looking for some fun in the sun.
Asbury Park: This tiny seaside town is known for its sandy shore and beachfront boardwalk lined with shops, arcades, and live music venues.
Cape May: As America's oldest seaside resort, Cape May is known for its grand Victorian houses and the Cape May Lighthouse, which was built in 1859.
Wildwood: Known for its wide, sandy beaches and iconic Sightseer tram car, this resort town is a popular tourist destination for families.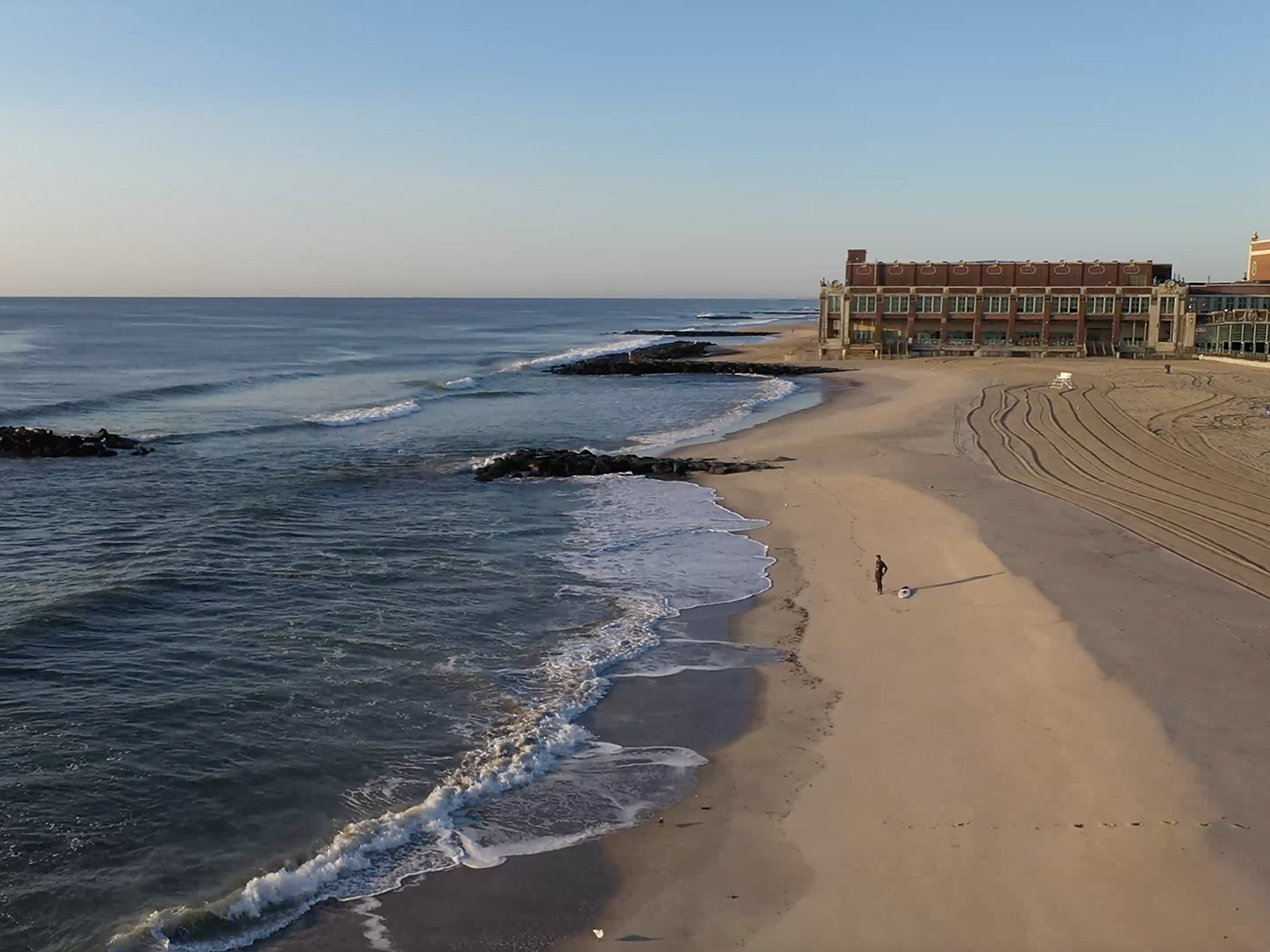 Asbury Park Beach & Convention Center