2020 has presented many challenges across the board, especially economically. As we all know, traveling can be fairly pricey, but there are ways to create and experience an adventure for much cheaper than you might think. And sometimes, the best memories are made when we adventure economically. So, if you have been bitten by the travel bug, consider these five tips to make sure you get the most bang for your buck on your next trip!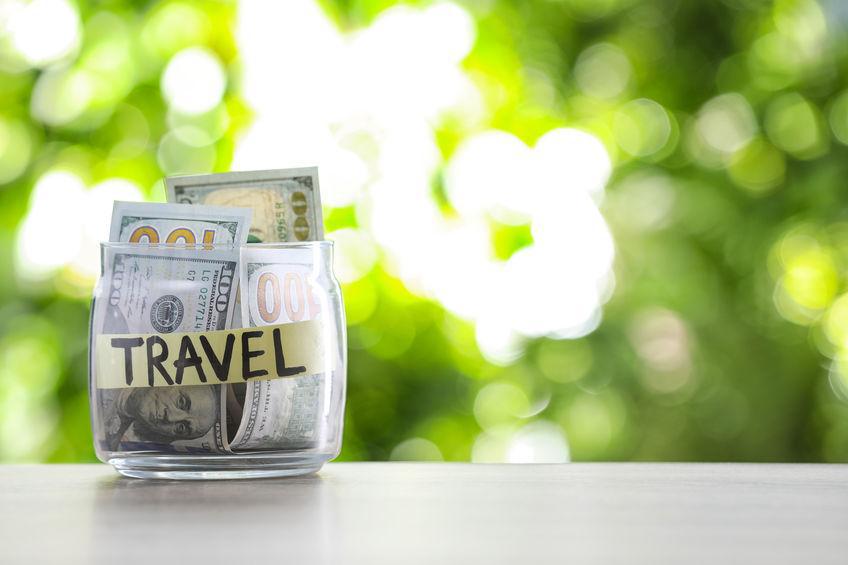 Rent an RV and bring your accommodations with you!
"From sea to shining sea." There are so many amazing opportunities for adventure while traveling in the United States, so why not make it a road trip? But, accommodations can be expensive. Although hotels and Airbnb may have implemented stricter policies for cleaning, it's much safer to have direct control and as limited interaction with others as possible.
So rather than booking a hotel in the center of a city, consider renting a Recreational Vehicle (RV) from a site like outdoorsy.com or RVshare.com instead. These rentals are similar to an Airbnb, but allow you to be mobile and take your accommodations along for the ride. RVs are available all over the country to either pick up, be delivered, or set up at your campsite for you. Don't forget you will need to pay for the campsite in addition to the nightly expense for the RV.
Take time to drive through National and State Parks:
Now that you've rented an RV… where are you headed? Don't forget about all of the National and State Parks across the US. These parks give you the opportunity to enjoy the great outdoors, experience beautiful historic and natural wonders, as well as engage in exciting recreational activities for all age groups and interests. If you're an adrenaline junkie, how about water rafting or kayaking? If you are traveling with children, many of these parks have Junior Ranger programs.
Make sure to check visitor center hours, so you can get the necessary paperwork and booklets, as well as learn about all a specific park has to offer. We also offer National and State Park guides on TravelGuidesFree.com. For example, check out the guide for Greater Zion, Utah. The majority of these parks have relatively cheap or very reasonable entry fees, which are perfect for adventuring economically.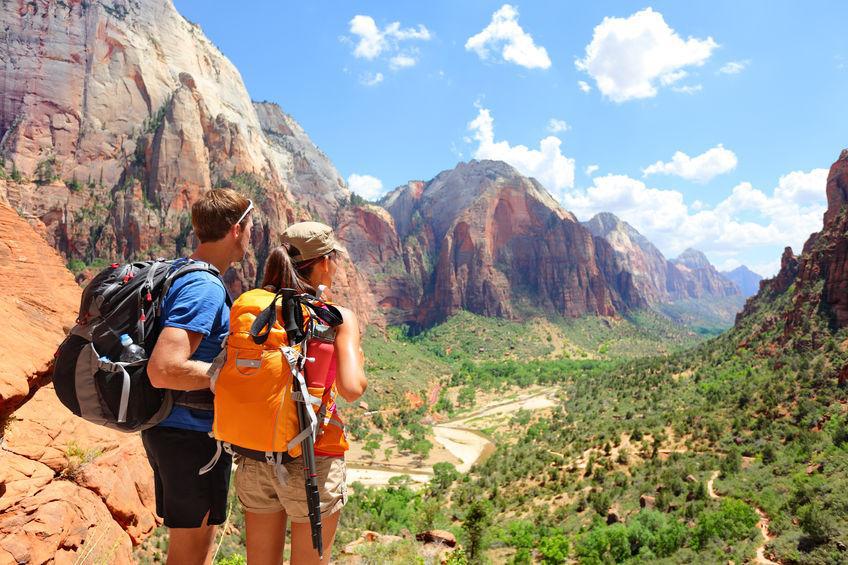 Pitch a tent or pop out your RV:
After an exciting day of driving and exploring, you'll probably want to park the RV and get some much-needed rest and relaxation. Camping is not only inexpensive but also allows you to continue to experience all the great outdoors have to offer, including fishing, hiking, biking, etc. You'll definitely want to check out reserveamerica.com for online campground reservations. To be even more frugal, there are plenty of free campsites all over the US. campendium.com is a site to find free campsites, as well as reviews to give you an idea of what you're getting into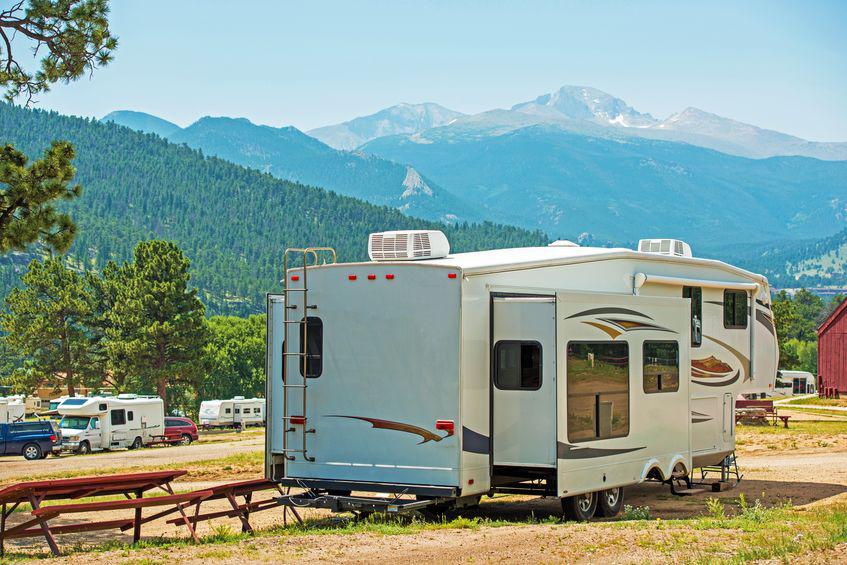 If you are not a fan of campgrounds, how does parking your RV overnight at a winery or brewery sound? Harvesthosts.com is a membership network that invites self-contained RVers to stay overnight for free at 1,240+ wineries, breweries, farms, and more, all across the US. Keep in mind that while the physical parking of an RV is free at these locations, Harvest Host guests are expected to support the local business by making a purchase.
Plan your meals:
We can all agree that sampling local cuisine is an enjoyable part of the travel experience, but it can definitely get expensive when you're eating three meals a day or if you are trying to feed an entire family! One of the added benefits of renting an RV is being able to prepare your own meals and snacks, just like you would at home. Check out these great tips for RV cooking from Rvshare.com While cooking some of your own meals is a great way to save money, definitely leave some room in your budget for eating out!
Eating like a local is an awesome way to experience the local culture of the city or town you are in. We recommend doing research in advance to find the favorite local spots. A great resource is the TravelGuidesFree website, where you can often find guides from a destination's Tourism Department or Chamber of Commerce.
You can also check out sites like eater.com, Foodietrip.com, and Travelandleisure.com. When reading through reviews on sites like Tripadvisor, make sure to take them with a grain of salt. It is not only important to understand the context of a review, but also what the person is comparing their experience too. Once you have an idea of the restaurants you want to try, make sure to check Groupon for any additional deals or discounts.
Definitely don't be afraid to talk to locals in order to find the best places to grab an inexpensive bite to eat. We recommend asking the concierge at a hotel (even if you are not staying there), contacting the local Chamber of Commerce, or asking bartenders, store clerks, etc. Trust us, the best food is rarely in the touristy areas of a city.
Don't forget about air travel:
Is renting an RV and going on a road trip not your idea of fun? No worries! Air travel is still a great option and there are easy ways to find great deals on flights! Airlines have been able to resume operations post the height of the COVID-19 pandemic, and have implemented much stricter safety protocols. Some of these protocols include requiring facemasks and limiting seating for social distancing.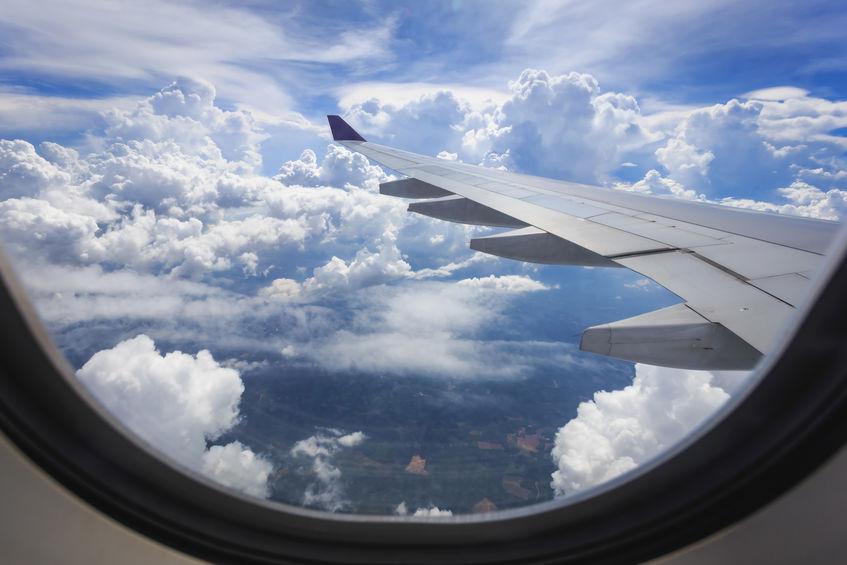 Although air travel is typically a more expensive option, many airlines are currently offering discounted fares, as well as no change fees as incentives for travelers to book a ticket. This past week, Delta, United, and American Airlines all announced not charging additional fees for changing a flight. This provides a great opportunity to take advantage of a special fare without being charged for changing the flight if needed. Of course, you will want to double-check all of the terms and conditions, as they can vary for each airline.
In general, some great websites to find cheap or discounted flights are Skyscanner, AirFare Watchdog (great for finding error or sale fares), and Scott's Cheap Flights. Another pro traveler tip is to always search for flights while in incognito or private browsing mode to ensure you are seeing the lowest prices. While you are searching normally, you are accumulating cookies in your browser and after that search is repeated, the prices you see may increase. This is a practice among some airlines to prompt travelers into booking flights quickly.
Remember that travel isn't about checking off a list of places you've been or a collection of photos you've taken. Traveling is truly about creating adventure and enjoying the experience of being somewhere new. With everything that has happened in 2020, it is important for all of us to savor small moments, slow down, and enjoy time alongside family and friends. Practice presence in the moment and truly take in the beauty of all that's around you. And remember, all of this doesn't have to be expensive. Go and plan your next adventure today!