The early winter season is an iconic time for travel. The movies, books, and films of our childhoods were full of bustling Christmas airport scenes and images of family road trips and reunions. For many, December is a time to enjoy the novelty of glistening lights, festive colors, and the celebratory imagery of the winter holiday season. Children of all ages delight in the sounds, tastes, and sights of the season.

There are many holiday festivals, fairs, and markets in the United States around this time of year. Whether you love twinkling lights, delicious treats, gift shopping, or seasonal drinks, an abundance of December traditions exist all over the country. Cross-culturally, whether you celebrate Diwali, Kwanzaa, Christmas, Hanukkah or Solstice, the season is full of festivity and celebration. If you are looking for unique winter wonderlands to visit this holiday season, read on for travel ideas!
Fairbanks, Alaska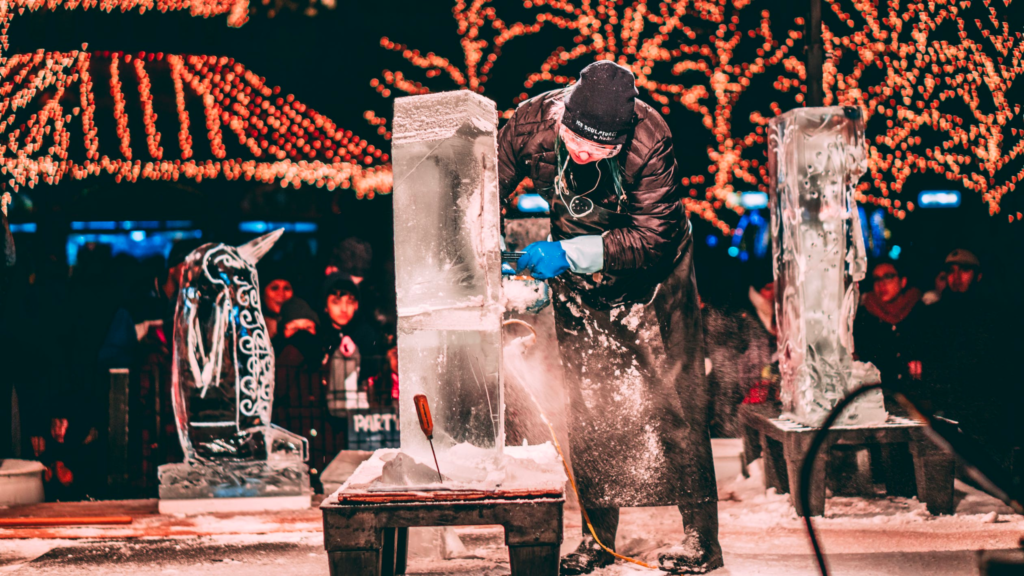 Imagine celebrating the holidays in a real winter wonderland. Fairbanks, Alaska, nicknamed Alaska's Golden Heart, is located near the actual North Pole! Fairbanks is a unique destination to explore, with incomparable natural attractions such as the Aurora Borealis, arctic wildlife, stunning national parks, and gold mines.

Winter Solstice is a special date in Fairbanks. December 21st, the darkest day of the year, is celebrated via a multitude of activities. In fact, the city offers weeks of frosty fun in the form of an annual Solstice festival. You'll see unbelievable ice sculptures created by artists all around the globe. You and your children can play on an ice playground! Later, have fun shopping for handmade local Alaskan crafts and foods, enjoying dog sledding competitions, or snowshoeing. Winter lights will bring you joy– along with a flashy Solstice firework show.

Twenty minutes from Fairbanks, the Santa Clause House in North Pole, Alaska celebrates Christmas 365 days a year. The historic general store and post office turned tourist site receives hundreds of thousands of letters from children every year. Visitors can purchase a letter from Santa on stationary that remains unchanged since the 1960s! Or, they can buy the deed to one square inch of the North Pole. Don't forget to enjoy the endless Christmas toys and art– including the biggest Santa statue in the world.

Get your Fairbanks Free Travel Guide and start to prepare for a magical holiday travel adventure unlike any other.
Get Your Free Fairbanks Alaska Travel Guide
St. Paul, Minnesota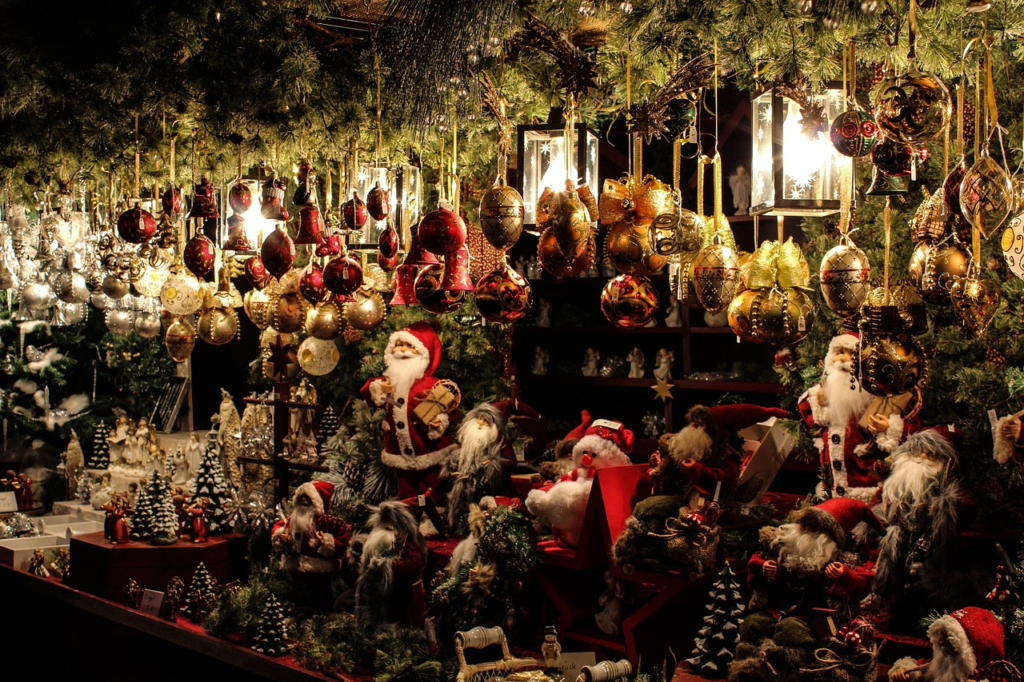 St. Paul, Minnesota, capital of Minnesota and one of the "twin cities," is another fantastic holiday travel destination. Travelers love St. Paul for its science museum, local history, beer and brewery scene, Victorian architecture, river boats, and unique floating hotels. In December, you can experience an array of special winter events that will leave you with beautiful holiday memories.

Visit the Twin City Model Railroad Museum to experience the annual holiday Night Trains and to-scale models of train depots. Explore the GLOW holiday festival. GLOW features the Tremendous Tree, sELFie Plaza, an Enchanted Forest, Bright Bikes, and a collection of glowing wares and gifts to purchase. You may want to purchase tickets to the snowy North Pole Express experience. Another area seasonal event worth experiencing is the Gilded Age-themed Holidays on the Hill Tours. Plant lovers won't want to miss the hundred-year-old annual Holiday Flower show at Marjorie McNeely Conservatory. Or, catch one of the remarkable holiday markets!

The Holiday Market at Keg & Case is a great place to catch Carolers and Sundays with Santa. The European Christmas Market at Union Depot features a Christmas village, an open air market, and European crafts, mulled wine, and holiday delicacies. It's the most authentic Christmas Market in Minnesota. Shop for handmade European crafts or unique gifts from local vendors. Drink spiced mulled wine and taste European-inspired treats.

Saint Paul Brewing features new local arts vendors every Sunday between Thanksgiving and Christmas for your holiday shopping pleasure. The Wells Holiday Market offers shopping and cocktails every Saturday morning in December.

A wide range of cultural events also take place in the city. Consider adding the spectacular Circus Juventas Solstice celebration to your itinerary. Visit the treasured tradition of the Old Fashioned Black Nativity. Or, sample the sights, sounds and flavors of Irish delights at the Celtic Holiday Hooley.

Be sure to pack our Saint Paul Free Travel Guide into your virtual suitcase as you prepare for your unforgettable St. Paul excursion. Whether you love snow sports, enjoying locally crafted brews, taking in the holiday lights, or shopping for unique gifts, you will find enjoyment in Saint Paul this holiday season.


Get Your Free Saint Paul, MN Travel Guide
Cody, Wyoming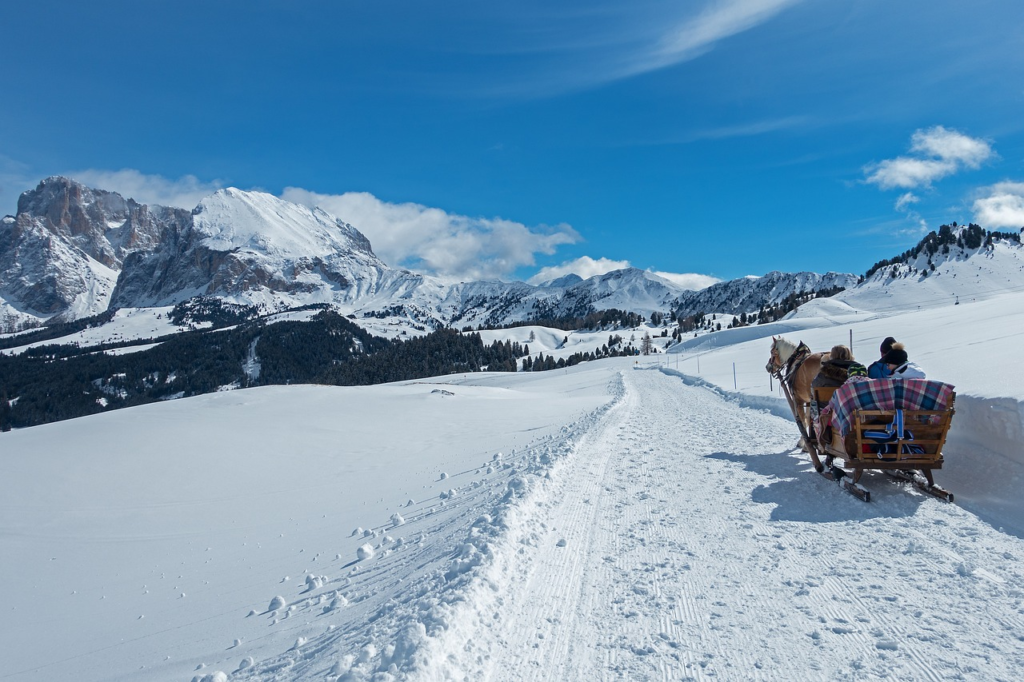 The Cody, Wyoming area is notorious for being the land of the Wild West and cowboys like Buffalo Bill. The beautiful views, parks, waterways, and wildlife are an iconic part of the American landscape. This is another magical winter destination to explore over your holiday break.

Celebrate a Cowboy Christmas as you enjoy hot cocoa and the Cody Christmas Stroll and Lighted Parade outside the Buffalo Bill Center. Book a snow coach tour to view the famous Old Faithful against a white, snowy backdrop at nearby Yellowstone. Like to ski? This is the perfect season to hit the slopes at one of the numerous local lodges. Cody Trolley Light Tours even offers a festive way to gaze at the local holiday lights while soaking up some regional history and lore.

Don't forget to get your Cody Yellowstone Country Free Travel Guide! Whether you are traveling with friends, family, or romantic partners, we've got you covered as you plan out your ideal holiday vacation in Cody.

Get Your Free Cody-Yellowstone, WY Travel Guide
Smoky Mountains, Tennessee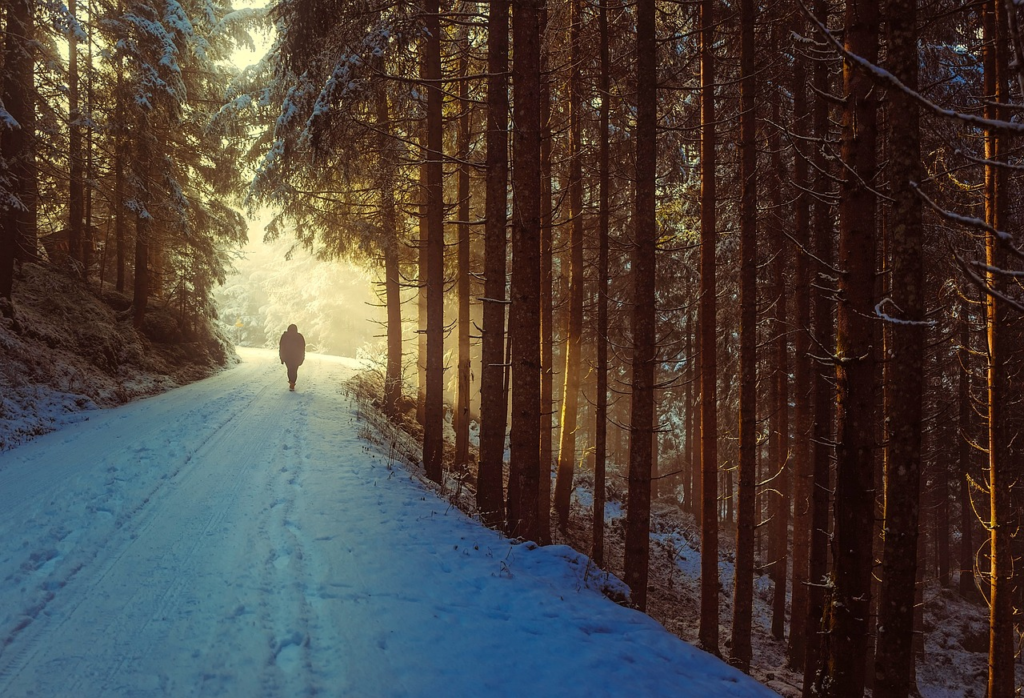 The Smoky Mountains are a fantastic travel destination if you enjoy rustic fireside settings and raw, natural beauty. If you love tasty Appalachian and Southern foods and spirits, bluegrass, and/or clear, glistening waterways, you'll be in your glory here! The area is full of gorgeous hikes and views, delicious flavors, and wildlife. If you need some wintertime pampering, you can book luxurious retreat-style lodgings with spa amenities!

The Smoky Mountains are home to the world-famous Dollywood theme park. Dollywood's Smoky Mountain Christmas holds the title of America's Best Christmas Event and has for over a decade. Experience visual marvels, entertainment, culinary delights, and award-winning fun geared toward family, friends and lovers, all against the backdrop of the gorgeous Smoky Mountains.

Take your Smoky Mountains, Tennessee Free Travel Guide with you as you create some lifelong holiday photos and memories this December!
Get Your Free Smoky Mountains, TN Travel Guide
White Mountains, New Hampshire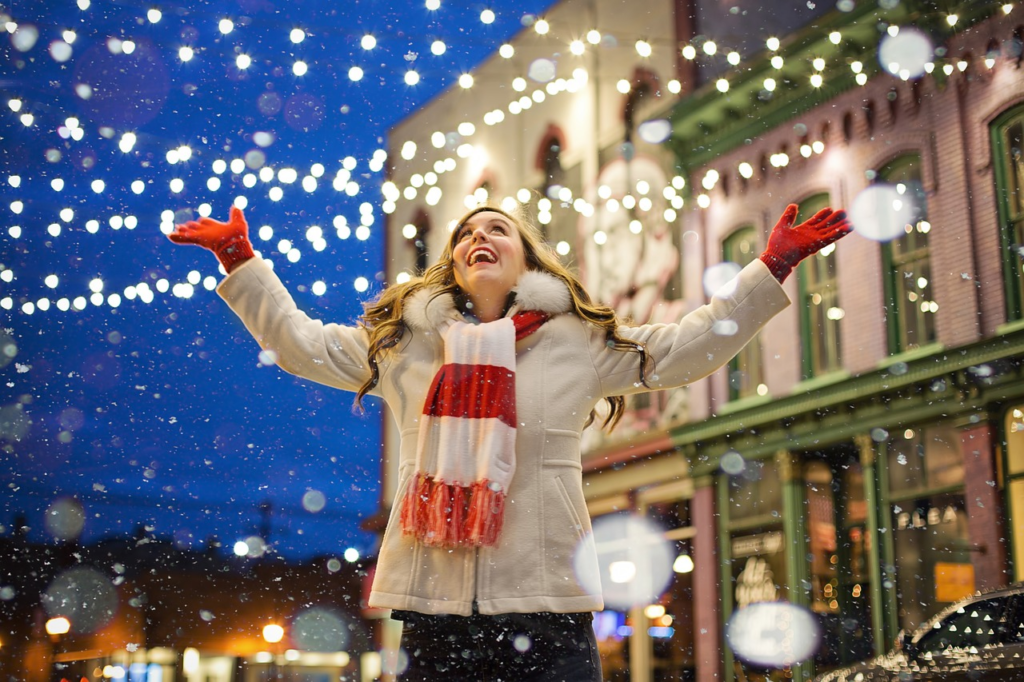 Do you love the idea of a romantic New England winter holiday? This is another one of our favorite winter wonderlands to visit this holiday season. The quaint and beautiful White Mountains in New Hampshire are full of charm in December. If you are dreaming of a White Christmas, snowfall in this area can make your dream come true! Your fellow travelers of any age will love the Jingle Bell Chocolate Tour, for example. Take a sleigh ride through town and collect delicious hand-crafted chocolates, jinging all the way from quaint confectionery shop to shop.

Check out the magical Christmas-themed amusement park, Santa's Village, for rides, sweets, and other fun attractions, including photos with Santa and his reindeer! If you love beautiful views, look into booking a ticket to ride the original mountain-climbing railway, the Mount Washington Cog Railway. Mr. and Mrs. Clause will be happy to join you! For an immersive Christmas vacation experience, consider Christmas in the Mountains Celebration, which includes breakfast with Santa and Mrs. Claus, holiday-themed events like caroling, and Christmas movies. Consider checking out Christmas in Bethlehem too. This town event transforms Bethlehem's Main Street into a festive winter wonderland, full of glittering lights and holiday treats.

Consult our White Mountains, New Hampshire Free Travel Guide for tips on planning an unforgettable, snow-filled holiday trip.
Get Your Free White Mountains, NH Travel Guide
Book Your Winter Wonderland Escape Today!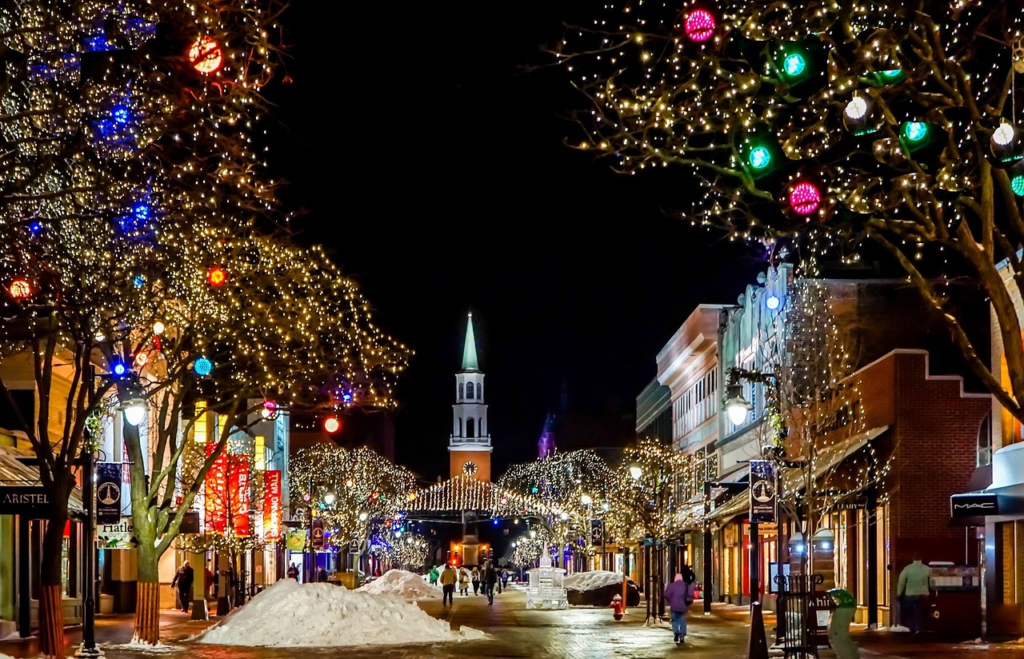 When it comes to the holiday season, the stress of cooking, cleaning, planning and shopping may feel overwhelming. Perhaps this year calls for a new tradition. Grab one of our free travel guides and think outside the box. A trip to explore one of these alluring winter destinations may make enjoying the holiday magic easy this year! Whatever you do, make sure the season is light-hearted and full of holiday cheer.
Check Out Our Other Free Travel Guides