Phew! The holidays are rapidly approaching and we are officially in the home stretch of 2020. During this time of year, we are usually hearing about the massive airport and travel delays, but in true 2020 fashion, this year will look different from what we are accustomed to. Many of us will likely be staying at home and spending time with local family and friends, rather than traveling to see extended family or taking much-needed vacations.
For those of us who are itching to get out and travel or are used to being on-the-go during the holidays, it may be challenging to simply stay put. Although traveling may not be an option this holiday season, we have a unique opportunity to spend time with friends and family in more traditional ways. So if you are struggling to come up with fun activities for your tribe, let us help you out! When was the last time your family or friend group had a proper game night? Let's bring it back!
While Monopoly or Sorry may be shoved to the back of a random closet, we strongly recommend you upgrade your go-to game selection. There are some seriously fun travel-themed games on the market. We recommend visiting your local game and toy shops first, but if you are really down to the wire, these games are available on Amazon. Here are a few of our favorites:
United States Bingo:
This game is perfect for families and is a great introduction to geography for kids! Additionally, players learn key facts about different industries and recreation across the United States. If you have been here for a while, you know that Travel Guides Free believes that there is so much adventure right in our backyard. This game will give your family the opportunity to experience all of the excitement the US has to offer from the comfort and safety of your living room. View Game on Amazon.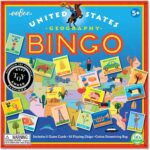 Passport to Culture Travel Edition:
If you want to learn more about the world we live in, this game is definitely for you. Players have the opportunity to travel the world by answering various trivia questions on top attractions, various languages, and local culture. This game is a great way to explore new places and learn fascinating facts about different places and cultures. View Game on Amazon.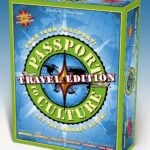 Itchy Feet:
If you have card game lovers in your family, Itchy Feet may be the game for you! Players pick up and swap cards in order to collect all 3 items needed to travel to a new place and to go on a specific adventure. And… steals are allowed, so you better watch your back because we all have that one family member or friend who is ruthless! This game is also great for anyone in your family who loves to plan every little detail in advance. View Game on Amazon.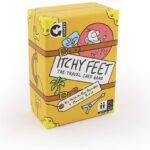 BrainBox All Around the USA:
If you have kids, this game is a great option! Not only is it super affordable, but who doesn't love games that teach? This game is an excellent aid for kids to improve their memory skills, while also testing their knowledge of state capitals, famous landmarks, and US geography. For the adults in your family, this will be a great way to find out who is truly smarter than a 5th grader! View Game on Amazon.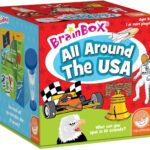 Trekking The National Parks:
Just about everyone knows that Travel Guides Free loves National Parks, so naturally, we had to save the best for last. This award-winning game was originally created by National Park enthusiasts, who are also parents and have traveled to every National Park. Their goal was to create a game that inspired others to travel to and experience all of the beauty National Parks have to offer. Players will have the chance to travel across the country visiting and learning about different parks along the way. This game is a great option for families and friend groups with outdoor enthusiasts or board game lovers. View Game on Amazon.
These are just a few of the travel-themed games currently on the market. If none of these piqued your interest or organized games, in general, are not really your style, there are great ways to add your own twist on more traditional games and activities to engage, and fill your family time. Here are our favorites: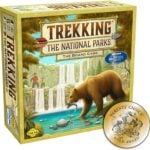 Travel Charades:
Most of us are familiar with the game of Charades, acting out words or phrases to get your team to guess what the word or phrase is. It is super easy to create your own version of this classic game, so why not act out top attractions and places around the US? Have each of your family members or friends write out different attractions, such as the Statue of Liberty, the Golden Gate Bridge, etc. If you are struggling with thinking of more than just a couple of places, check out this article from the US. News on 50 US Attractions to Cross Off your Bucket List!
Once you have a good amount of places written down, fold them up and throw them in a cup to pull from. Travel Charades also provides a great opportunity to learn about new places, as everyone might not be familiar with every place or attraction that is written down.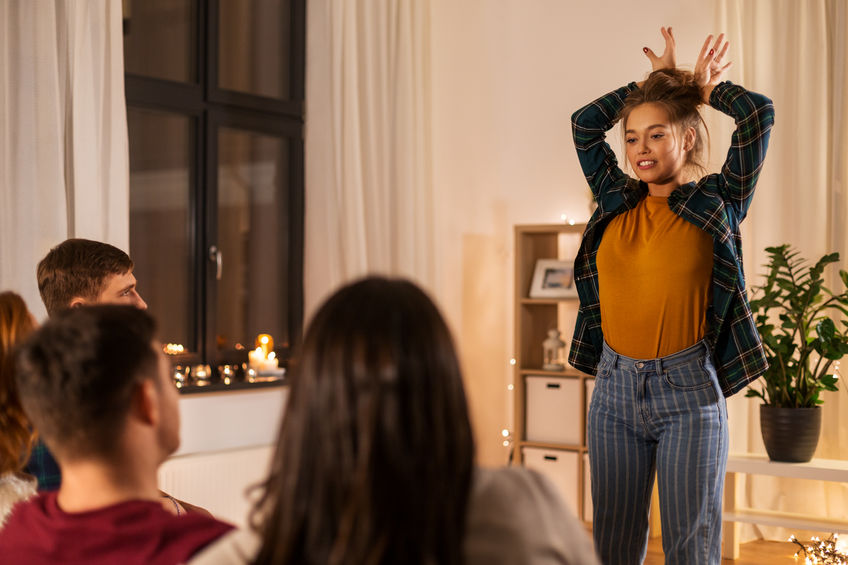 Trivial Pursuit:
Trivial Pursuit is a fantastic trivia game, even if you don't use the game-board! You can split your family and friends into teams and keep score on who answers the most questions correctly. This game already is jam-packed with questions relating to history, geography, sports, culture, and top attractions, so everyone will have the opportunity to learn something new! And hey, maybe you want to raise the stakes a bit…whichever team loses has to do the dishes after dinner.
Get Trivial Pursuit on Amazon.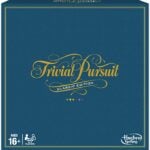 Don't Hate on Puzzles:
Many of us likely think about puzzles as a hobby or a way to simply relax. The holidays can definitely be a crazy stressful time, so puzzles may be the perfect activity to keep everyone in your family as stress-free as possible.
The truth is that while puzzles are a great way to wind down after a long day, there are so many mental benefits associated with putting puzzles together. Not only can it be insanely therapeutic, but puzzles actually help improve problem-solving skills, aid in developing better visual-spatial awareness, as well as greater attention to detail. Even putting kids into teams or having your family work together can strengthen collaboration and teamwork skills. Check out this article to learn more about the surprising mental benefits associated with puzzles. There are some beautiful puzzles of landscapes, National Parks, cities, etc. Make sure to check your local toy shop, other online game/toy retailers, or Amazon. Puzzles on Amazon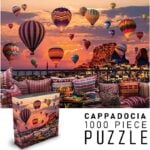 These are just some of the many travel-themed games available. For those that desire more games or some traditional or trending games to engage and fulfill your family time, we have listed a number of favorites below.

Just because we will be spending more time at home this holiday season, doesn't mean there isn't an opportunity to create lasting memories with family and friends. These games and activities might even help you get your travel fix, as well as spark great ideas for future trips. So hunker down, bundle up and have yourself a good old-fashioned game night. Let's still make this holiday season one to remember – Have FUN!
_______________________
Additional Holiday Activities & Games for the Family
Don't forget any of these activities and games are good for anytime, and make great gifts too. Get your guest or holiday gifts now.

Trending & Fun:
Heads Up:
Use on an individual's mobile phone. It's the game The New York Times called a "Sensation," and Cosmopolitan said "will be the best dollar you've spent. Love playing charades games? Heads Up! is just that, a fun twist on charades! From naming celebrities to singing to silly accents – guess the word on the card that's on your head from your friends' clues before the timer runs out! Get your simple download now!
Speak Out and The Mouth Game:
Brings friends and family together for laugh-out-loud fun as players try to say different phrases while wearing a mouthpiece that won't let them shut their mouth.
Games – No Board Necessary:
Minute to Win-It:
These are one of the easiest types of games to play at any gathering, for individuals, teams, groups at any age. With a little bit of ingenuity and some common household items, you can come up with tons of Minute to Win It-inspired activities for the whole family. The object is to complete a certain task in less than a minute, and the ticking clock definitely ups the excitement. Check out this ultimate guide of Minute to Win It games for some ideas.
Never Have I Ever:
This is among the many favorite games, but it must be played with at least several people, the more the better. The concept is similar to musical chairs in that there is one less chair than there are people. Arrange the chairs in a circle looking inward. One person stands in the middle and announces one thing that they have never done. For instance, the person in the middle might announce, "Never have I ever ridden in a hot air balloon." Anyone who has ridden in a hot air balloon would then get up, leaving their chair unoccupied, and find a new chair. The person in the middle would also find a chair. Whoever is left without a chair is the new person in the middle and will take a turn announcing what they have never done. There are many varieties of how to play with the same basic concept.
Would You Rather:
The more creative you are, the more fun this game can be. For this game, the players move to one side of the room or another depending on what they prefer given two options. For example, the first set of options might be wearing shoes or going barefoot. The person who is "it" would announce, "Would you rather wear shoes or go barefoot?" If your answer is you prefer to wear shoes, you would go to the left, but if you would rather be barefoot, you would go to the right. Keep track of the answers to see who has the most in common with each other.
Favorite Classic & Traditional games:
Whether you are digging one of these games out of the closet or buying a new one, they bring back great memories and fun to play again. Also note, for those that may be desiring to play on the road, the beach, or wherever your travels may take you many of these games come in various travel editions, digital and mobile versions too.
Cards:
Always great fun to play your favorite card game with friends and family. Whether Rummy, Spades, Crazy 8's, Hearts, Pinochle, Bridge, Poker, or other favorites. Find more games and all the rules here
Puzzles:
As referenced earlier in this post an alternative to playing a game is to do a puzzle. This will give you a good opportunity to talk and catch up with family and friends instead of only discussing what is going on in the game. Puzzles come in a wide range of sizes, number of pieces, designs, and prices, but you can find some pretty good ones at your local dollar store. Puzzles on Amazon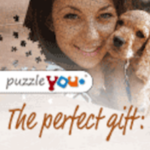 For those desiring to be more creative, you can create your own puzzle with your own artwork and pictures including one of yourself or your family. Makes a great gift too.