Autumn can be one of the most beautiful times of the year with fall foliage displaying breathtaking colors like gold, orange, and scarlet. You don't have to travel far to see the beauty that fall foliage has to offer. Yet, with so many different destinations to choose from, it can get overwhelming! Here are 5 breathtaking destinations you can visit to view fall foliage this season.
1. Great Smoky Mountains, Tennessee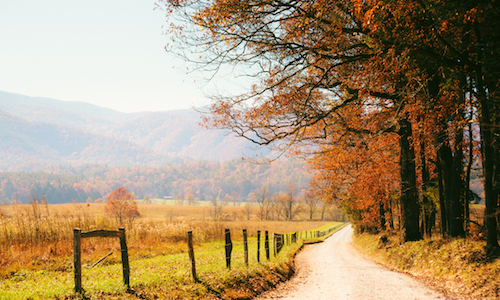 With 800 miles of scenic roads and hiking trails, there's a reason that the Great Smoky National Park is one of the most visited parks in the United States. Do you love the outdoors? Then you have a variety of activities to choose from. Indulge in horseback riding, tubing, and even motorcycle riding if you want an extra adrenaline rush! During your adventures, you'll see over 100 species of native trees that put on a display of gold, crimson, and purple hues.
Gather family and friends and explore a corn maze or pumpkin patch at a local farm. You could also take a load off and chase waterfalls like the Rainbow, Grotto, and those from Laurel Falls. If nature isn't your thing then get prepared for a unique shopping experience! Immerse yourself in the culture of the Great Smoky Mountains and shop at the local antique and country stores. End your nights in luxury and ditch the common hotel, opt for a bed and breakfast like the Christopher Place!
When You Should Visit: Early October through early November
2. Logan, Utah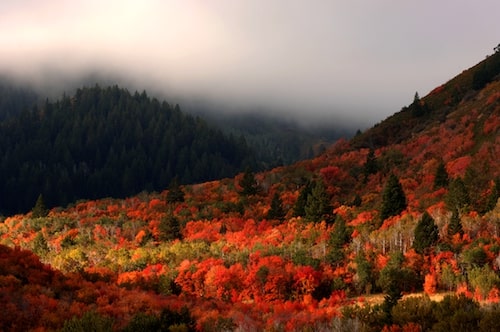 Step back in time to experience the true Old West at the American West Heritage Center where history comes alive. Explore the Mountain Man camp, pioneer settlements, and 1917 working farm. Their fun Fall Harvest Festival features steam engine threshing, cider making, historic tractor demonstrations, hands-on activities, giant corn maze, pony rides and more.
Logan Canyon National Scenic Byway is 43 miles of unspoiled paradise where you can hike, bike, fish, canoe, birdwatch, explore by horseback or side-by-side RZR off-road vehicle (rent at Beaver Creek Lodge) and later ski and snowmobile. Beautiful and uncrowded scenery awaits and it's only a 10-minute drive from downtown Logan.

Logan has an array of unique locally-owned restaurants, and you'll also appreciate 20 stops on the self-guided Signature Products and Foodie Trek. Visit our food production facilities for famous cheese, ice cream, Caffe Ibis coffee, Pepperidge Farm cookies, Cox honey, Lower Meats, hand-dipped chocolates and more. Other unique products include handmade soaps and lotions, pajamas and socks.

Logan and the surrounding mountains pop with crimson, orange and yellow from mid-September to mid-October. Come discover your own adventure in Logan, Utah, the most scenic way from Salt Lake City to Yellowstone and Jackson. It's affordable and unforgettable.

When You Should Visit: Early September into November
3. Anchorage, Alaska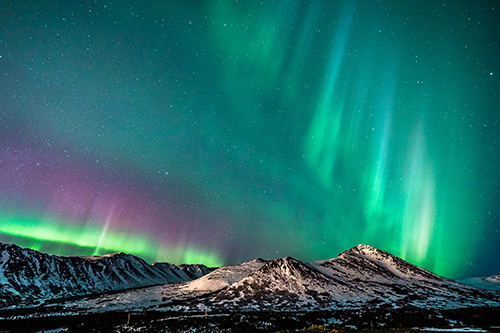 Anchorage has the best of Alaska, all in one place! Take a train from Denali National park to Anchorage to see amazing red and orange colors of fall that only last a few weeks. Choose your challenge, with hiking trails ranging from easy walks to technical climbs!
Who said that cruises were only meant for the summer? Grab a front-row seat to see relics from the ice age and book a glacier day cruise! Around this time of year, the gorgeous night skies have returned. This means the northern lights are ready to display their beauty again! Go on a guided tour to see this natural phenomenon for a traveling experience you won't forget!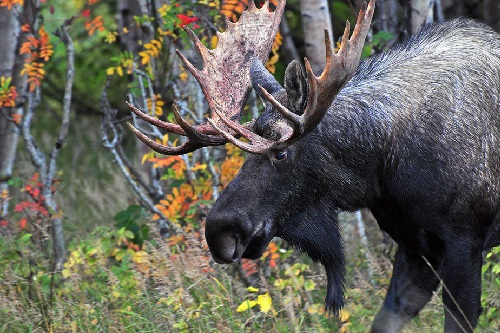 So you have your adventures mapped out, but you still need a place to stay? Book an Alaskan Bed and Breakfast and find a place with scenic views from your dreams. This will be the one time you won't mind having a Moose in your backyard.
When You Should Visit: Mid-August to Late October
4. New Hampshire
Escape to the White Mountains and experience towering peaks with unrivaled stunning scenery, outdoor activities, and many attractions and things to do. Although late in the season to take in the colors of autumn, one can still marvel at the magnificent mountain vistas, gorges, and falls in one of New England's most popular scenic destinations!
Take a ride along Mt. Washington Auto Road, visit the Flume Gorge or Lost River Gorge and Boulder Caves. Of course, there is plenty of hiking and "hike the Whites" including White Mountains National Forest or Mt. Washington. Any history buff would love the Conway Scenic Railroad, where you can enjoy elegant dining or opt to take part in a murder mystery dinner. You'll get a chance to experience this historical landmark at its fullest by sifting through the clues presented in hopes to determine the "killer" on board. Only in New Hampshire will they show you that you don't need snow on the ground to get your mush on! Take a unique dog sledding tour with Muddy Paws, available from September to November. Enjoy all that the majestic views have to offer while whisking through a picturesque fall scene. It's more than just a ride!
When You Should Visit: Late September to Late October

5. Nebraska
Enjoy the beautiful scenery of Nebraska with fishing, boating, and camping amidst the orange, red, and yellow hues of fall! Get your hike on through nearly 2,000 acres of forest, prairie, and wetlands. The Fontenelle Forest hiking trails will take you through stunning views of fall foliage. If you're looking for wildlife, keep your eyes peeled for rescue birds in the Raptor Woodland refuge. Scenic drives are another way to take in the autumn views. While you're exploring, pay extra attention to areas near rivers and creeks. This is where you'll find the lushest vegetation, and the most beautiful fall colors in Nebraska!
Keep your fall traditions going during your fall trip! Pick out your favorite pumpkin or hop on a hayrack ride at Bellevue Berry Farm and Pumpkin Ranch. If you want to experience your destination with unique accommodations, check out the glamping tents in Falcon Wood Park. Immerse yourself in fall foliage while enjoying amenities like fire pits and badminton.
While you're on the way, stop in Sarpy County! You will enjoy attractions, dining, shopping and recreational opportunities, like shopping malls to quaint little shops, a variety of restaurants, lush golf courses, and so much more! The friendly atmosphere will be a great addition to your vacation, i.e the perfect fall getaway!
When You Should Visit: Mid-October to Early November