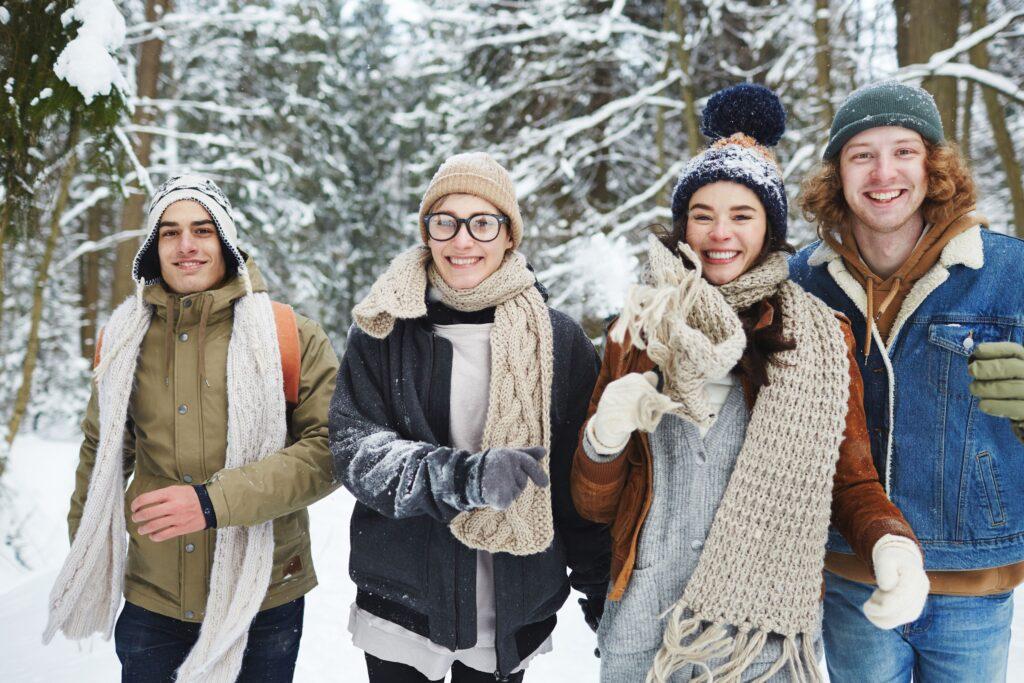 As 2021 comes to an end, there's still plenty of time to plan a last-minute holiday getaway to a fantastic destination and ring in the new year with a sense of adventuresome winter fun. And, if not for the "holiday", they are still great places that will continue to have "holiday spirit" and plenty of winter activities.
Check out our top recommendations for a weekend getaway this holiday and winter season.
Tennesse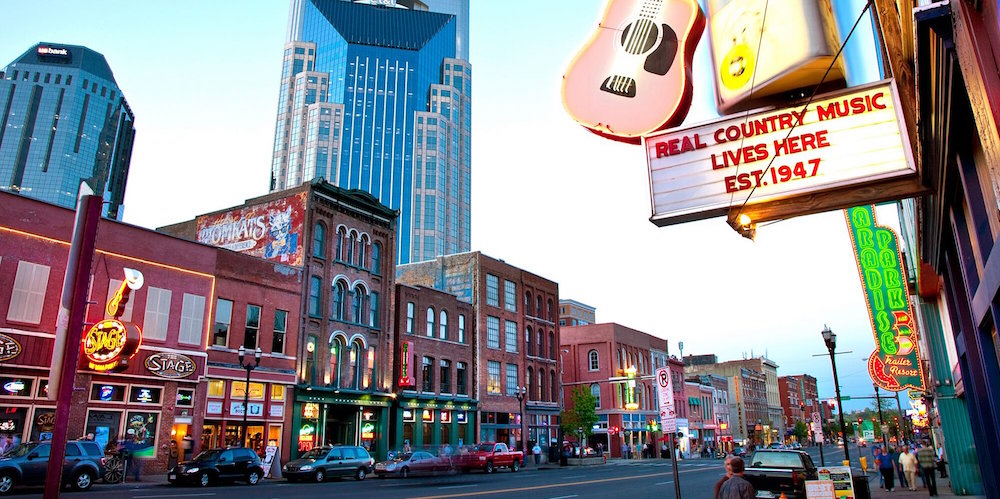 Tennesee is most known for Nashville, the country music capital of the world; however, this gorgeous state offers more than just a good 'ole honky tonk. With a vibrant history, countless natural wonders, and small towns beaming with southern charm, Tennessee offers incredible destinations for a weekend getaway year-round. But, there is something truly special about the region during the holiday season.
Smoky Mountains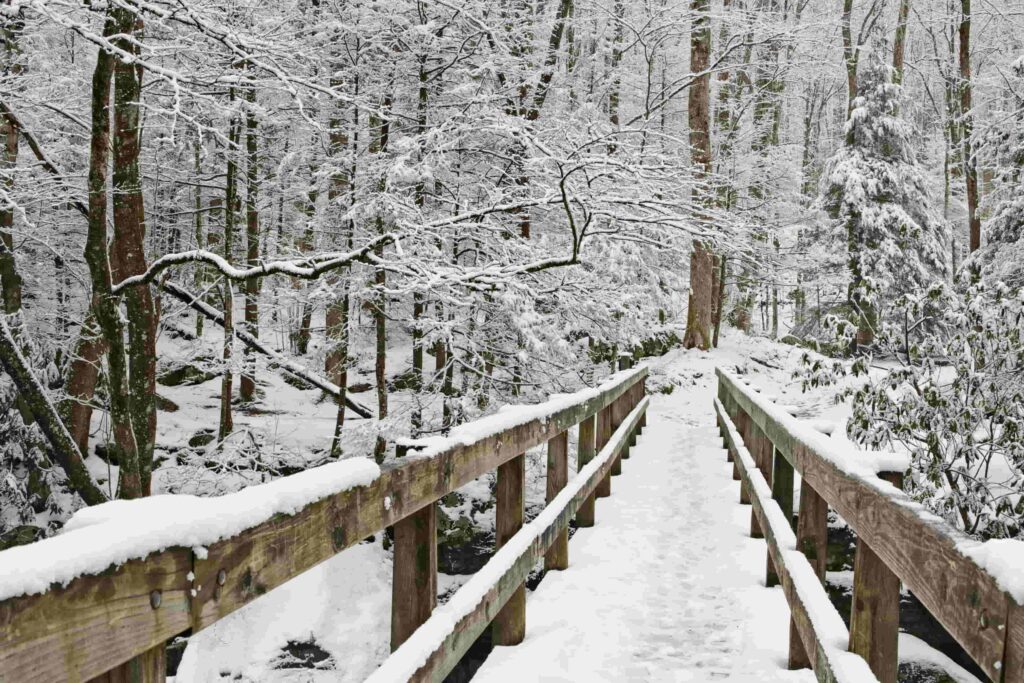 Tennessee's Smoky Mountains is a region where family tradition is not only born but thrives. The Smokies offer year-round adventures suitable for all ages, where you can immerse yourself in nature, learn about local history, enjoy unique shopping and entertainment, take part in seasonal events, and much more! During the holidays, the Smokies come alive and offer unique ways to celebrate Christmas and the New Year. Throughout the month of December, there is an abundance of Christmas spirit looming through the air, making the region the perfect last-minute holiday destination.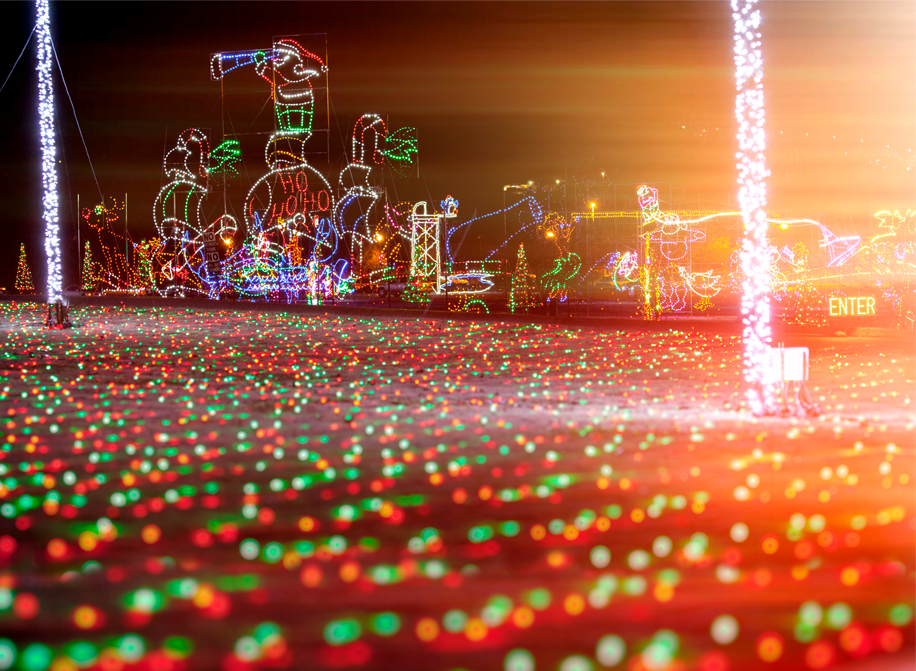 The vibrant cities and towns of the Smokies light up during the holiday season by displaying millions of Christmas lights in gorgeous showcases. And yes, we said millions! Sevierville alone is responsible for hanging roughly 15 million lights within just a 25-mile stretch; however, Pigeon Forge and Gatlinburg are tough competition. We recommend taking the Gatlinburg Trolley Tour of Lights, to not only view incredible light displays but to learn about the history of the area as well.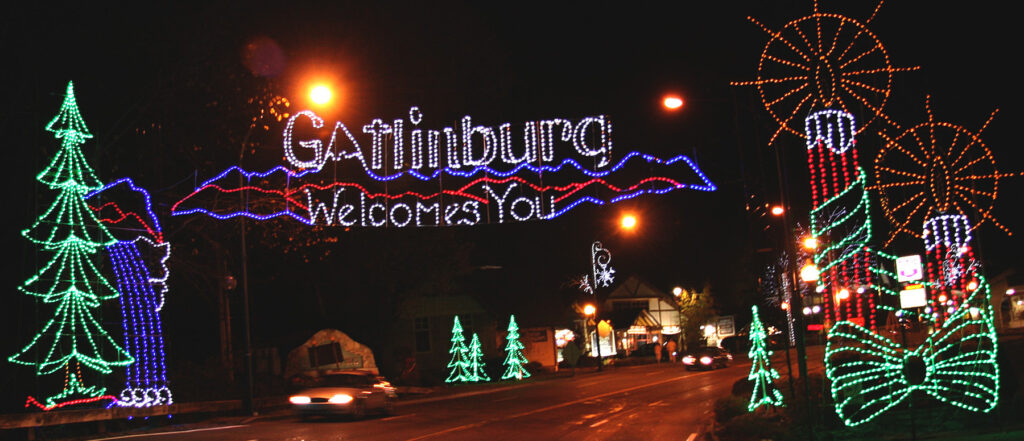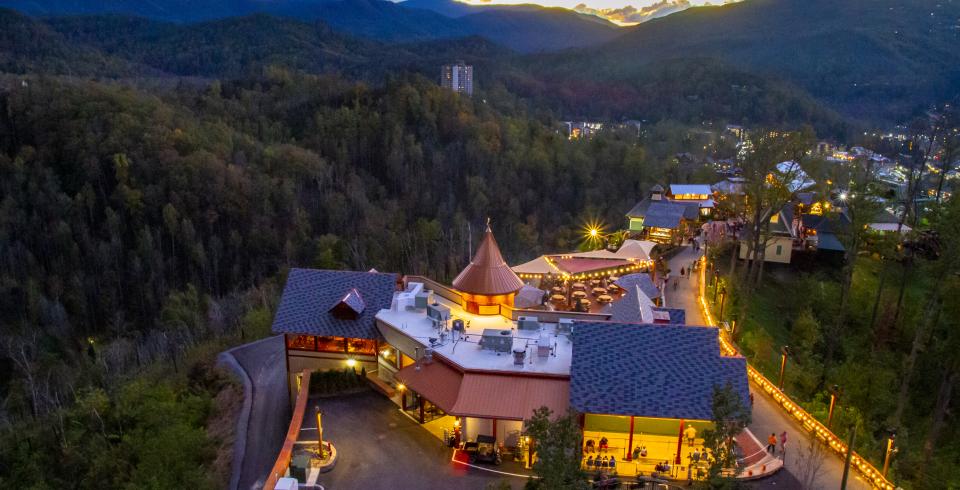 The Smokies don't disappoint when it comes to adventures that get your adrenaline pumping. Close to both Gatlinburg and Pigeon Forge, the Ober Gatlinburg is a mountain-side amusement park offering exhilarating winter activities for all ages. Visitors enjoy skiing, snowboarding, ice skating, tubing, as well as an alpine slide. The park also offers activities for younger children who aren't quite ready to hit the slopes and ski lessons for anyone new to the sport.
Additionally, Great Smoky Mountains National Park features hiking trails the whole family can enjoy. Plus, during the winter season, crowds tend to be lighter, giving you the perfect opportunity to enjoy breathtaking views and to connect with nature.
There is an endless amount of family-friendly holiday activities that are bound to bring you back to Blount County. Make sure to hop aboard the "Polar Express!" The Smokies' version that is. The Great Smoky Mountain Railroad operates until January 1st and travels through extraordinary landscapes giving you incredible views while staying nice and cozy inside the train car. The region also features unique entertainment including the Hatfield and McCoy Christmas Dinner Disaster, A Comedy Barn Christmas, and the Country Tonite Theatre Christmas Show.
However you spend your time in the Smokies this holiday season, we guarantee that you'll create memories that will last a lifetime. To start planning your last-minute weekend getaway in the Great Smoky Mountains, check out the region's visitor's website and click below to download our free guide!
Franklin
If you're looking to experience true southern sophistication during the holidays, look no further than Franklin. Just south of Nashville, this city offers an adventure filled with history, award-winning wineries and distilleries, fantastic cuisine, and an enchanting Christmas spirit.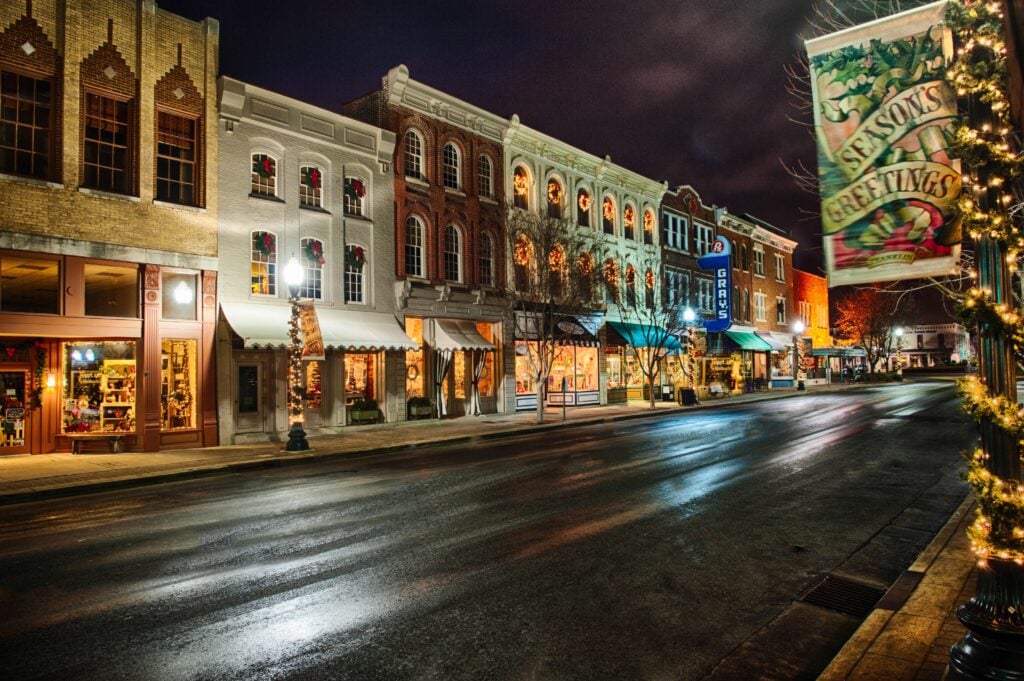 Franklin's Historic Downtown District is listed on the National Register of Historic Places and is considered a "Great American" Main Street experience. The 16-block district features Victorian architecture, unique shops, antique stores, restaurants, entertainment, and much more. During the holiday season, Main Street becomes a winter wonderland with twinkling lights and storefronts that will remind you of Miracle on 34th Street. Oprah Magazine didn't name Franklin one of the "Most Charming Christmas Towns Across the World" for nothing!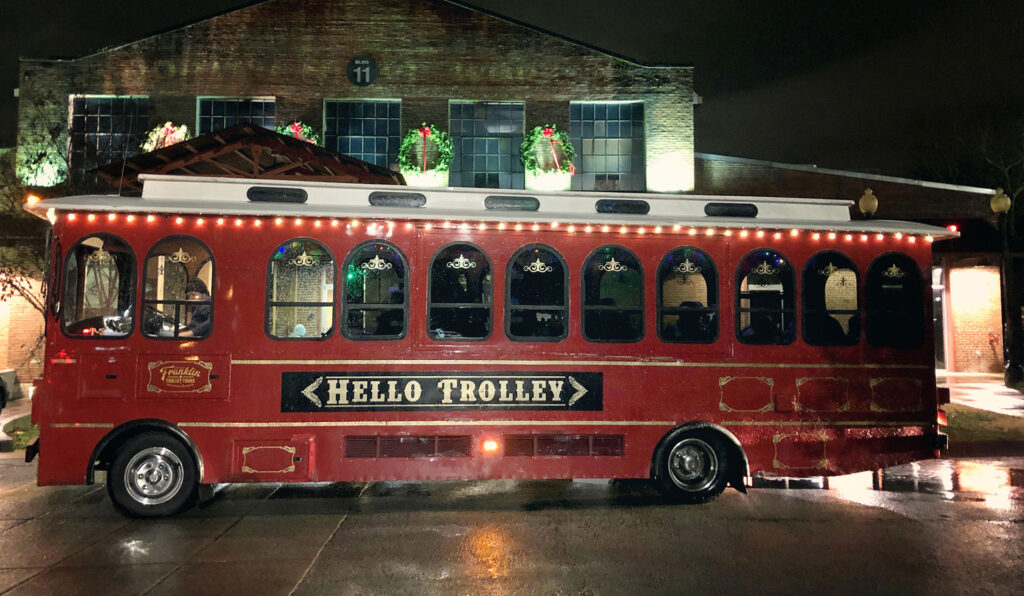 Throughout the holiday season, the Franklin Theatre offers showings of holiday movies, as well as concerts and other live performances. Since the theatre is located in the heart of downtown, you'll be able to walk to one of many fantastic restaurants in the area either before or after the show. And let's not forget about the cocktails! With incredible bars and lounges within walking distance, it won't be hard to work up enough liquid cheer to kiss that special someone under the mistletoe. Additionally, you'll find tasty seasonal sweets in local bakeries and fun activities for the whole family to enjoy, including taking the kids to make handmade gifts at Third Coast Clay. Plus, there are tons of cozy accommodations to choose from to help you relax after a long day of winter fun!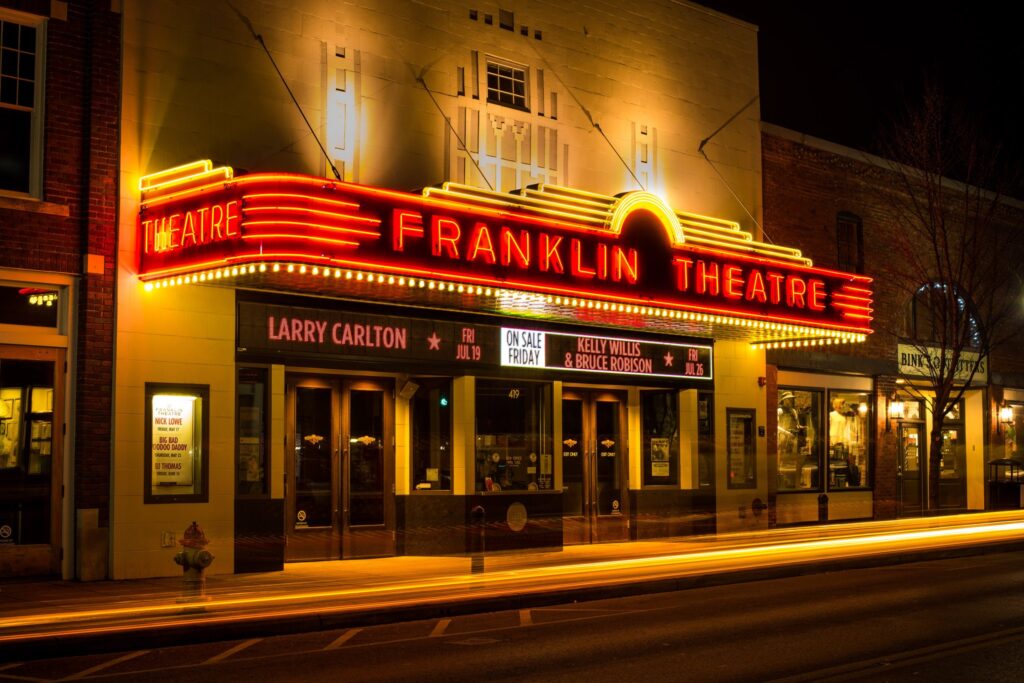 If you're craving more local history experiences, we recommend visiting the Carnton and Carter House. This Civil War landmark was originally built in 1826 by the mayor of Nashville and has been frequently visited by prominent people who have taken a role in shaping Tennessee's history. Guided tours of the houses and grounds are offered daily, and discounted tickets are available at the downtown Franklin Visitor's Center.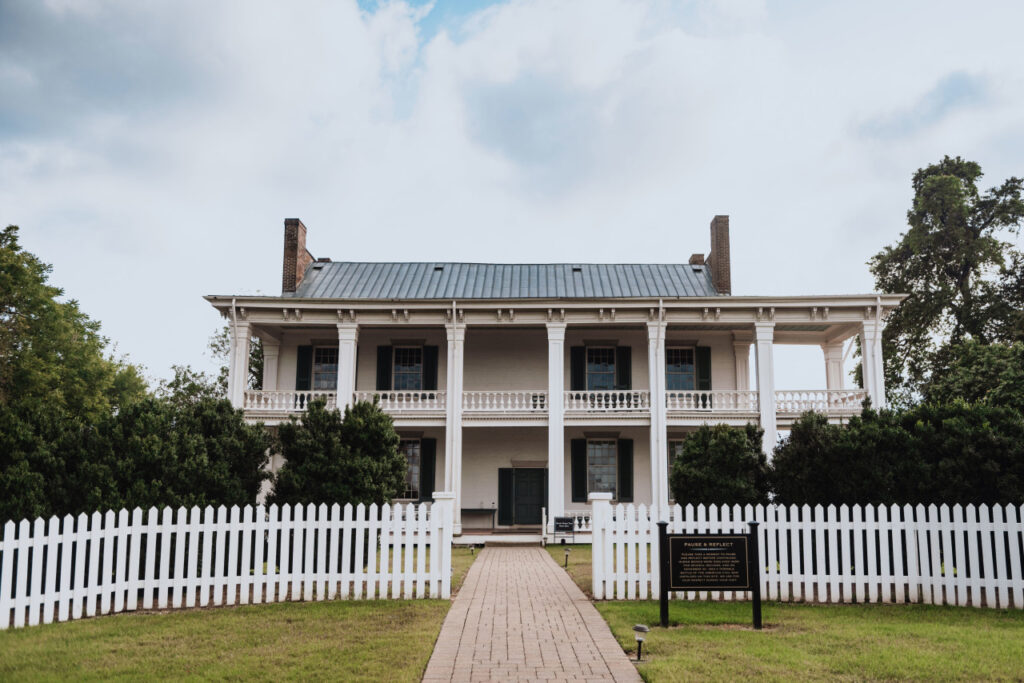 And don't forget about the wine! Nestled within the beautiful Williamson County countryside, you'll find Arrington Vineyards, nicknamed "Franklin's Wine Country." The vineyard has become a popular destination in the southeast, offering signature and premier wine tasting experiences, as well as unique holiday experiences in their Vineyard House and Wine Loft. And guess what! Arrington Vineyards is part-owned by Kix Brooks, of the iconic country music duo, Brooks and Dunn.
To start planning your holiday weekend getaway in Franklin, check out their visitor's website.
New Jersey
We get it, New Jersey is an unexpected choice for a last-minute holiday getaway, but you'll have to trust us! While the Garden State is most known for the Jersey Shore and Atlantic City, there is an abundance of opportunities to find an outdoor oasis, small-town charm, and plenty of holiday magic.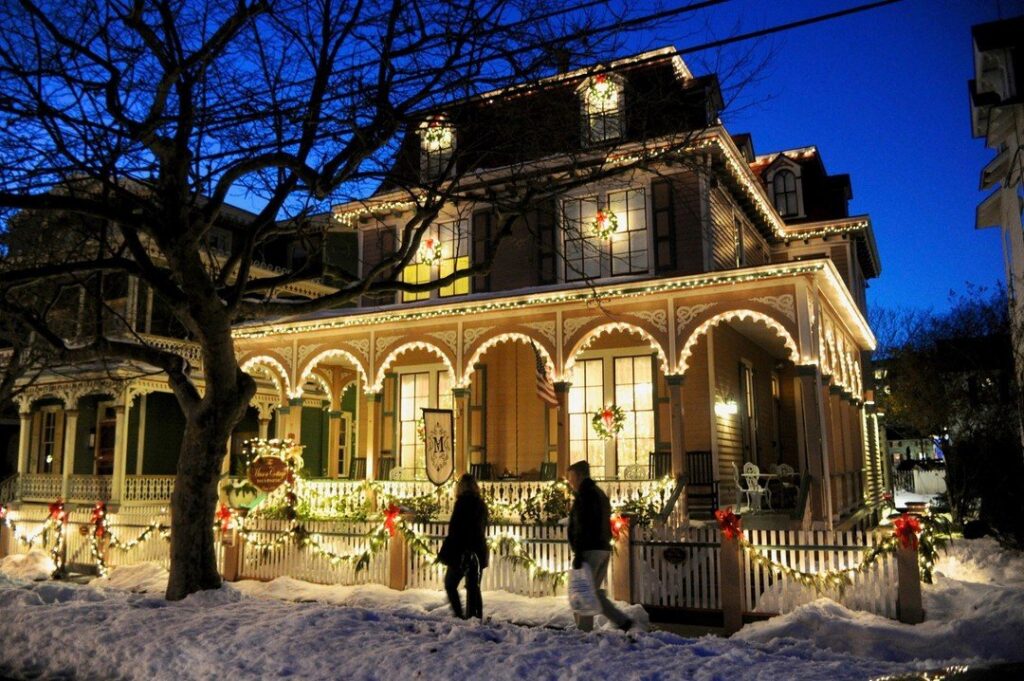 Mountain Creek Resort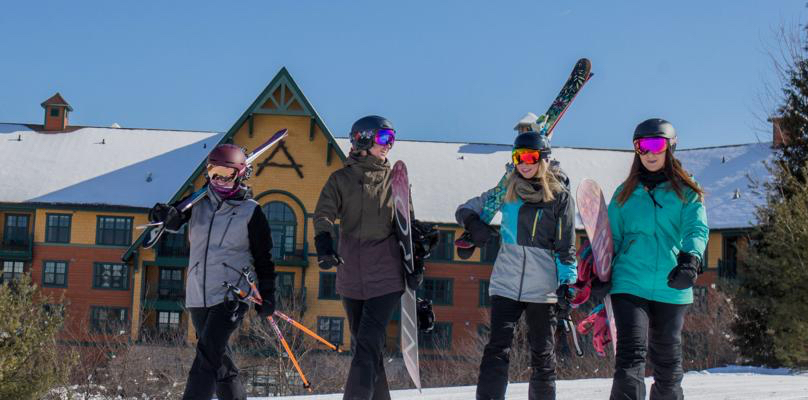 Just 47 miles from New York City, you'll find Mountain Creek. This world-class resort is what adrenaline junkies dream about and offers unforgettable adventures year-round. With a variety of winter sports and activities, seasonal events, wineries, fantastic cuisine, and cozy accommodations, the resort and surrounding areas are magical places to spend a weekend during the holidays.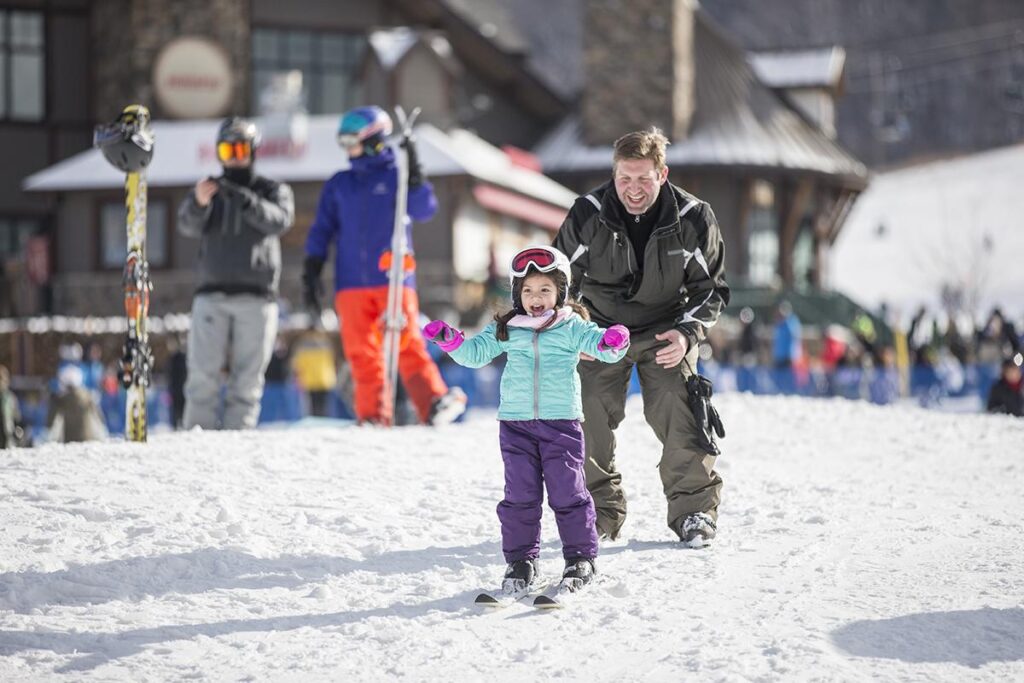 The resort is truly a "Mountain Playground," where you can hit the slopes in a variety of different ways. Keep it traditional by skiing, snowboarding, or snow tubing, and if you want to kick it up a notch, try Sno-Go Biking! Just think about if a bike and a pair of skis had a baby, Sno-Go is what you'd get. But, however you make your way down the slopes, we promise you'll have a blast.
If you still need New Year's Eve plans, look no further than Mountain Creek. The resort's annual New Year's Eve party features delicious food from local restaurants, fireworks, and a live DJ. Plus, it'll give you a reason to dress up, since formal attire is required. There might not be a better way to ring in the New Year, and the event is bound to be a night to remember.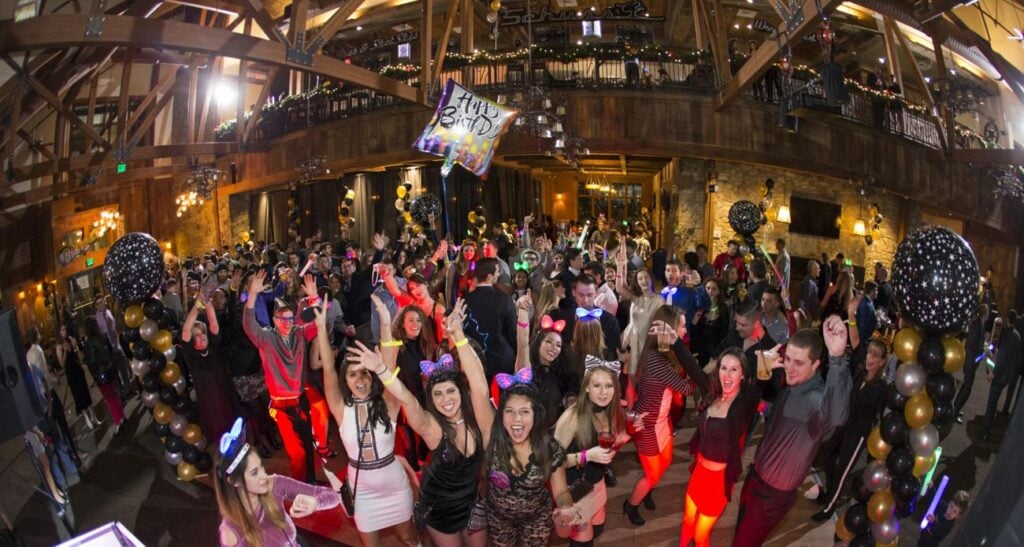 During your time in Mountain Creek, we recommend exploring all that the surrounding areas have to offer! A quick 20-minute drive will bring you to Warwick Valley Winery and Distillery located in the foothills of the Hudson Valley. The winery features a stunning landscape, tastings 7-days a week, as well as farm-to-table dining at their cafe. What a spectacular way to spend a brisk afternoon!
After a day playing on the slopes, wine tasting, or exploring the surrounding area, nothing sounds better than coming back to your room and curling up next to a crackling fireplace! Mountain Creek Resort offers various accommodation packages, and whichever you choose, you can't go wrong. Just keep in mind that while the holidays are a busy time of year, if you're planning a weekend getaway after New Year's, the resort is offering a 20% discount for all bookings between January 2nd-13th.
To start planning your weekend getaway to Mountain Creek, check out their visitor's website.
Cape May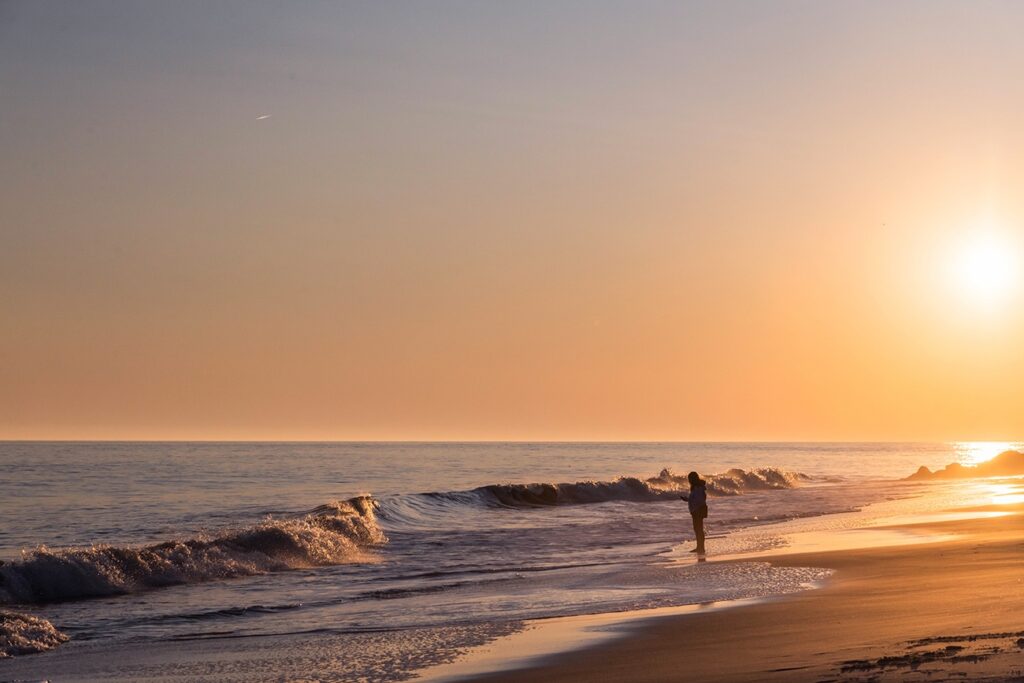 The southernmost point of New Jersey is home to America's first Seaside Resort, Cape May. The region not only shines bright with small-town hospitality but features pristine beaches, a rich history, as well as sensational accommodations and amenities. Cape May attracts families, couples, photographers, artists, and nature enthusiasts year-round; however, the region is an enchanting backdrop for a memorable weekend getaway during the holidays.
Spend your time roaming Cape May's Historic District to view over 600 Victorian-era houses, as well as spectacular Christmas light displays. We recommend taking one of several holiday lights tours available, such as the Trolley Light Tour or the Ghosts of Christmas Past Tour, which showcases Victorian homes and the ghosts that walk their halls. If you're looking to learn even more about the area's fascinating history, plan to tour the various museums scattered throughout the Historic District. Additionally, the Washington Street Mall is located in the center of downtown and features a variety of local shops and eateries.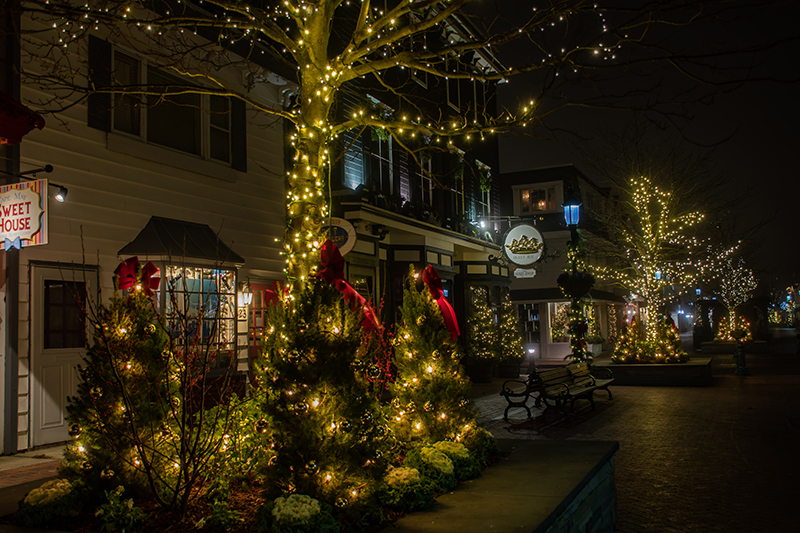 For anyone who prefers spending their time exploring the outdoors, don't miss out on the natural and historic attractions featured in Cape May State Park. The park offers incredible hiking trails, beautiful beaches, as well as an exhibit gallery. We recommend exploring the Cape May Lighthouse, which was built in 1829 and used as a lookout tower in World War II.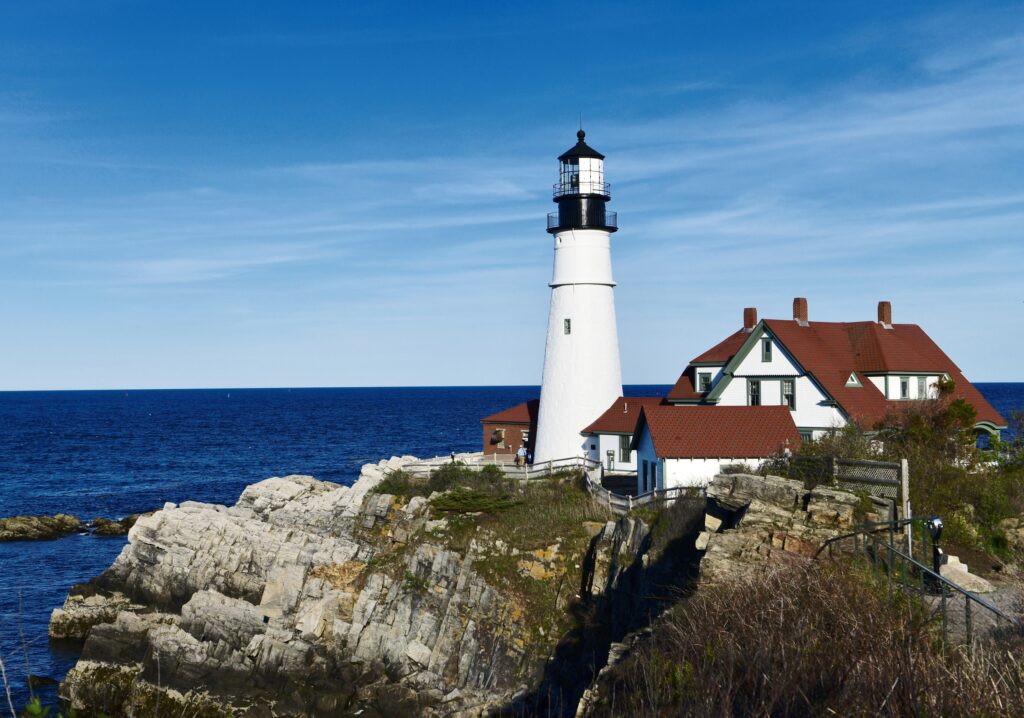 During the holidays, there's an abundance of seasonal activities and events that are guaranteed to spark holiday cheer. From Christmas plays and concerts, Winter Wonderland events at Congress Hall, Breakfast with Santa, the annual Elf Dash to support local businesses, and even Christmas movie showings, you won't have any trouble finding things to do in Cape May.
To start planning your holiday weekend getaway at the Cape, check out their visitor's website. And while you're in New Jersey, you might as well do some extra exploring! Click below to download our free New Jersey guide to learn more about adventures waiting for you in the Garden State.
Now, we hope you are inspired to go visit one or more of these great destinations. At least to get out and enjoy some holiday and winter activities in a new or favorite destination. Need more ideas? Don't forget to check out our full list of free travel guides to find the perfect destination for you!