Autumn in New York State is iconic. The golden leaves, crisp apples, charming orchards, pumpkin farms, cool, sparkling streams, and refreshing mountain hiking trails create a special kind of fall magic. If you are looking for an autumn getaway, a long weekend trip in New York State may be just the ticket. Get ready to explore, taste some delightful local treats, and breathe in that renewing fall air. Our New York travel guides will help you find the hot spots and tucked-away hidden gems that make autumn in New York unique.
The Mohawk Valley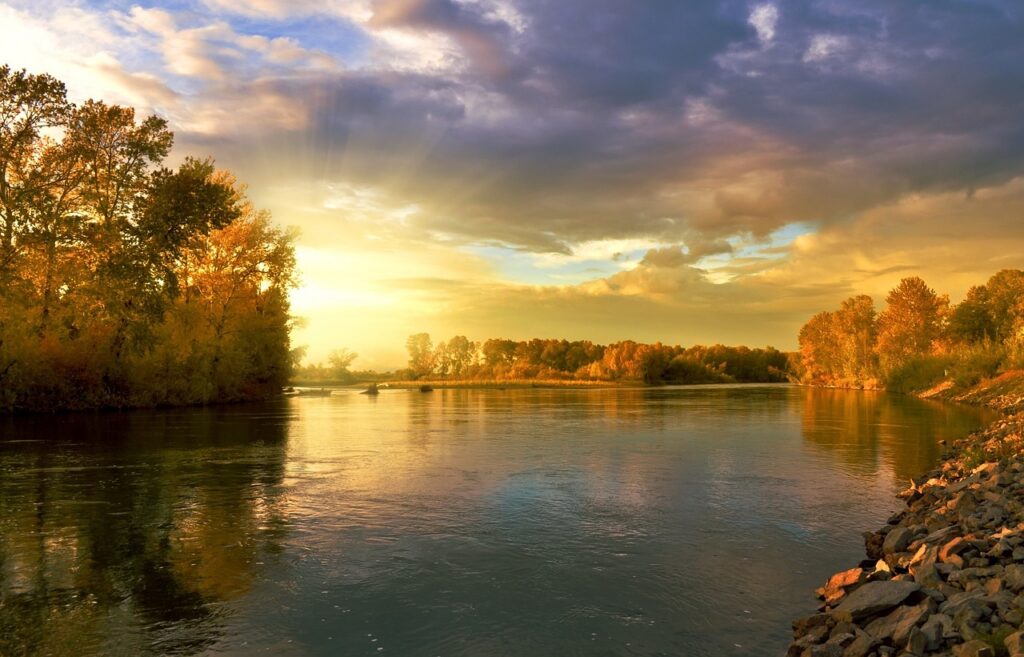 Northwest of the Capital District area of New York State, nestled between the Adirondack and the Catskill Mountains, lies the historic Mohawk Valley region. The area features suburban and rural beauty through surrounding cities like Schenectady, Utica, and Rome. The Mohawk Valley is rich in indigenous and Dutch history. Mohawk and Oneida ancestral lands stretch along the Mohawk River. Some of New York's most breathtaking fall foliage is in this region!
A round-trip ticket along the Adirondack Railroad is one unique way to explore the gorgeous foliage as you travel from the Utica area to Old Forge. In the foothills of the Adirondacks, you can see seasonal leaf changes along with local wildlife. Regional ski lifts and chair rides offer breathtaking views of the Fulton Lakes, High Peaks, Whiteface Mountain, and Mount Marcy. Or, check out the Mohawk Valley's historic Erie Canal sightseeing tours. Don't forget to explore the abundance of local apple orchards, pumpkin farms, cider mills, breweries, and farmer's markets full of local fall foods. Turning Stone Casino or a boating excursion along Sylvan Beach can also provide some adventurous variety on your excursion. Note that both Utica and Schenectady boast fantastic family-owned Italian restaurants. Get your Utica-Rome-Verona & Sylvan Beach Free Travel Guide here to prepare for a Mohawk Valley trip to remember.
The Finger Lakes Region
The Finger Lakes region is notorious for its wineries, locally perfected foods, hiking trails, and glistening lakes. This is a vacation spot where New York's natural beauty and luxurious offerings meet. Rochester and Syracuse offer comfortable amenities, shops, and unique eateries. Nearby, charming Auburn, New York was the home of Harriet Tubman. Hiking trails and raw, natural beauty are accessible from Cayuga County in the Finger Lakes. A day of wine tastings or hiking could end perfectly with a cozy meal by a fire at a local restaurant, bed and breakfast, or cabin.
The Watkins Glen area offers gorgeous fall views, water sports, hiking, and dining along Seneca Lake. You can tour a local alpaca farm, apple orchard, or the International Motor Racing Research Center. Local wines, beers, cheese, chocolate, and ice cream are some of the featured delicacies of the region that will enrich your experience! Remember to consult your Cayuga County, Rochester, and Watkins Glen Free Travel Guides as you plan your long weekend.
The Hudson Valley
The Hudson Valley is famous for fall foliage! Check out Boscobel House and Gardens in Putnam County for glorious views. Harriman State Park touts 200 miles of autumn trail hiking along with over 30 lakes and reservoirs. Hudson Highlands State Park Preserve in Cold Spring is awesome for hiking, fishing, birdwatching, and leaf peeping. The Hudson Valley's New Paltz area boasts the Shawangunk Mountains Scenic Byway and the Mohonk Preserve Visitors Center. There you will find 70 miles of carriage roads that now serve as hiking, biking, and horseback riding trails. Nearby, Minnewaska State Park Preserve, located at 2,000 feet above sea level offers gorgeous autumnal and waterfall views.
In the heart of the Hudson Valley, Westchester County sits about a half hour from New York City. Rich in history, charm, and seasonal attractions, Westchester makes a lovely fall travel destination. Gorgeous parks, a strong arts community, world-renowned golf courses, and plenty of farm-to-table food delights will make great fall memories.
This region's many autumn festivals and fairs will help you enjoy the season. Check out Hudson Valley Restaurant Week, the Hudson Valley Wine & Food Fest, or Sleepy Hollow's Jack O'Lantern Blaze in Croton-on-Hudson. The Hudson Valley is also home to more than two dozen apple orchards. Choose from a multitude of pumpkin farms, corn mazes, hayrides, haunted houses, and more for a fun fall experience.
Grab our Westchester County Free Travel Guide here and plan that much needed escape today.
Western New York
Pack your flannel shirts, cozy sweaters, and fall boots to prep for pumpkin patches, cider mills, and fall hiking in the Enchanted Mountains of Western New York. Travel the area's famous Amish Trail and sample local handcrafted baked goods, cheeses, or bread, or purchase local Amish handmade wares. Check out Mayer Brothers Cider Mill & Bakery in West Seneca, New York, one of the largest processors of apple cider in North America. Allegany State Park is a fall must-see for nature lovers and those who want gorgeous fall hiking photos. Sprague's Maple Farms are open year-round for nature hikes and maple treats.
If you need a change of pace, the new Seneca Allegany Casino in Salamanca will make for a fun night. If you love local history, explore the Seneca Iroquois National Museum to learn about the history of the Seneca Nation in Western New York. Chautauqua County is the Western-most county in New York and includes the stunning Lake Erie and Chautauqua Lake. Be sure to check out lakeside restaurants and accommodations as you plan your trip.
Don't miss out on our Enchanted Mountains of Western New York and Chautauqua County Free Travel Guides for the best tips on enjoying autumn in Western New York.
The Catskills
In late September the warm oranges, reds, and golds of autumn in the Catskill Mountains begin to flash their glamor. Their beauty peaks by the second week in October. You won't want to miss this magnificence! Whether you are taking in the views while hiking, dining, or touring one of the renowned local wineries, you'll want your camera or phone ready to snap some photos.
The Catskills offer seasonal farm festivals and farmer's markets, with plenty of sights, sounds, and activities for kids and adults. You likely know that Cooperstown in Otsego County is renowned for being home to the Baseball Hall of Fame. You may not know that the Cooperstown area is home to five state parks, beautiful waterways, farming and art museums, and a multitude of family-friendly activities and attractions. Add the Cooperstown-Otsego County Free Travel Guide to your virtual suitcase to make sure you're ready for your fall adventure in the Catskill Mountain region.
Central New York
Central New York possesses stunning, photogenic natural beauty. This makes an unforgettable backdrop for hiking, biking, or horseback riding. If you love water, you can visit sparkling lakes and ponds, majestic waterfalls, and the legendary Erie Canal. Local wines, beers, ciders, farm-to-table foods, and a strong community arts scene add character to the region. You may want to visit Chittenango, birthplace of Wizard of Oz author, L. Frank Baum. While there, be sure to view the glorious 167-foot waterfall at Chittenango Falls State Park.
Central New York's Madison County was integral in the Underground Railroad and Abolition movement and features various educational and historical sites. Oswego County provides record-breaking-sized trout and salmon, thousands of acres of trails, and plenty of pristine beauty for leisure, adventure, or photography.
Plan your visit now with the Madison County, and Oswego County Free Travel Guides.
North Country
Set along the Western shores of gorgeous Lake Champlain, the North Country's Adirondack Coast produces more apples than anywhere in the United States besides Washington State! Enjoy wagon rides, pumpkin patches, pick-your-own orchard apples, pumpkin and cider donuts, corn mazes, farm-fresh pies, jams, cheeses, and more. Travel along the Adirondack Cuisine Trail and experience local farm culture and delicious, seasonal foods made by generations of family farmers. North Country is a wonderful place to enjoy fall hikes, birdwatching, golfing, scenic drives, campfires on cold nights, and rustic or luxurious accommodations.
Fall fishing under cooler temperatures makes salmon and trout more available, for those who love a good catch. Hunting is also a common pastime in the North Country fall. Last but not least, you will want to put leaf viewing on your to-do list, as it is stunning to witness in the Adirondack region during this time of year. Get the Adirondack Coast Free Travel Guide to make planning your time in New York's North Country a breeze!
Fall in Love with New York
Fall in New York State is an incomparable experience. Whether you are traveling with a romantic partner, children, friends, work colleagues, or solo, you'll experience the renewal of seasonal foods, drinks, crisp air, and warm colors. Plan now to make sure you have the best experience possible. For your convenience, leverage our Free Travel Guides for New York State to create a trip you'll remember. The magic of autumn in New York awaits.